Wabash Chamber Orchestra to Perform Sunday
• December 4, 2013

Share: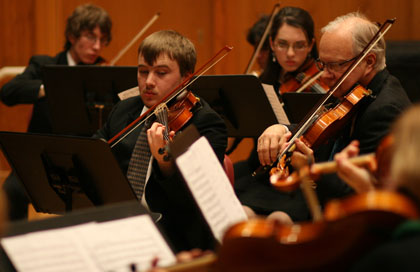 Wabash College's Music Department invites you to a concert given by the Chamber Orchestra. The orchestra will present their concert at 7:30 p.m., Sunday, December 8, in Salter Concert Hall in the Fine Arts Center.

Under the direction of Alfred Abel, the program will begin with the Overture to Beatrice and Benedict by Hector Berlioz. Next will be the colorful Polovtsian Dances from the opera, Prince Igor, by the Russian composer, Alexander Borodin. The second half of the program will be the Symphony #2 in B-flat Major, a masterpiece by Franz Schubert, written when the composer was 18 years old.

The Chamber Orchestra draws its members not only from the Wabash student body, but also from musicians on the faculty and staff, along with professional and amateur musicians from the surrounding area.

The concert is free and open to the public.