Wakka Wakka Productions Perform at Wabash
• November 4, 2013

Share: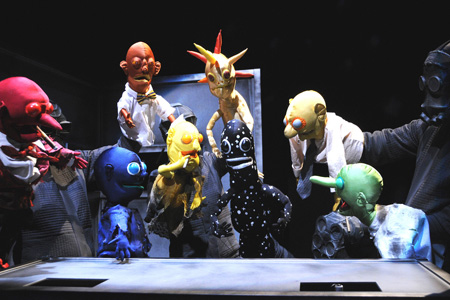 Wabash College's Visiting Artists Series will present Wakka Wakka Productions: Baby Universe (A Puppet Odyssey) at 8 p.m., Thursday, November 7, in Ball Theater in the Fine Arts Center.

Baby Universe is an original piece by the New York City-based troupe Wakka Wakka about a futuristic government program to save the population of a dying planet in a dying universe. In a race against the clock, scientist-generated baby universes are placed in the care of lonely spinsters in the hope that one might nurture a savior universe capable of birthing a planet that can support the populace of an entire world.

Wakka Wakka has created and produced six original works of theatre, previously performing, FABRIK: The Legend of M. Rabinowitz in 2009 at Wabash. The troupe creates innovative visual theatre in a wide range of styles, incorporating elements such as object movement, puppetry, and masks.

Baby Universe is presented with over 30 puppets, five actor/puppeteers, masks, a robot, animated video projection, and a space-age score. The New York Times called Baby Universe a "funny and poignant eco-fable" and that "in this age of overproduced spectacle, there's something magical and refreshing about Wakka Wakka's low-tech, rough-and-ready aesthetic."

Seating for Visiting Artists Series events will be by general admission, though free tickets are required.

Contact the Fine Arts Center Box Office by email at boxoffice@wabash.edu; or phone: 765-361-6411. Box Office hours are Monday through Friday, 8:30 a.m. to 12 noon and 1:30 to 4 p.m. The box office will open 90 minutes before curtain time for Visiting Artists events. Tickets not claimed at the Box Office 10 minutes prior to curtain will be released to the general public.

Photo: Baby Universe presented by Wakka Wakka Productions; Photo by Jim Baldassare.