Red Pack Wins 2013 NCAC CC Title
by Brent Harris • November 2, 2013

Share:
The Wabash College cross country team executed its plan perfectly Saturday to capture the 2013 North Coast Athletic Conference Men's Championship in Meadville, Pennsylvania. The top-seven Little Giants runners earned All-NCAC honors, while Coach Roger Busch picked up the Men's Coach of the Year Award. Mason McKinney was named the Newcomer of the Year.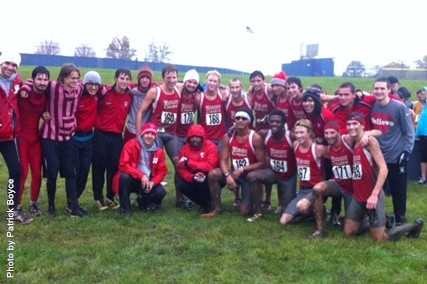 The Little Giants plan was to stay close as a group. Wabash placed all five scorers in the top-10, starting with junior Dalton Boyer's second-place finish. Boyer crossed the finish line in 26:54.3 behind individual champion Bobby Over from Allegheny (26:35.0). Billy McManus was the next member of the Red Pack to finish, grabbing fourth place with a time of 27:11.1. Nick Boyce finished seventh (27:20.2) to earn the final spot on the All-NCAC First Team. Sophomore Adam Togami finished a second behind Boyce in eighth (27:21.8), with Jared Burris right behind Togami in ninth place (27:29.6).

Boyer earned All-NCAC honors for the third time in his career. He was placed on the First Team in 2012 and was a Second Team finalist in 2011. McManus claimed First Team honors for the second consecutive season. Burris earned Second Team honors last year.

McKinney earned the Newcomer of the Year Award by posting the best finish by any first-year runner in the league. He took 14th place in 27:45.5 to also be placed on the All-NCAC Second Team. Fellow freshman Cordell Lewis started off the Honorable Mention All-NCAC squad with his 15th-place finish, crossing the line for the 8,000-meter course in 27:51.7.

Fabian House added a 23rd-place finish (28:15.7). Cole Hrusckovich finished 25th (28:21.7), while Jake Ponton crossed in 37th place (28:46.6). Sean Lewis added a 42nd-place finish (28:55.1). Jacob Caddick was 70th (29:48.0).

The Red Pack's 30-point effort provided a 16-point margin over second-place Allegheny to give Wabash its second NCAC men's title since joining the league. The Little Giants captured its first league cross country title in 2011.

Wooster took third place with 95 points. Oberlin (122), DePauw (148), Kenyon (167), Ohio Wesleyan (177), Denison (184), Wittenberg (201), and Hiram (330) completed the team scoring.

Busch was voted the league's top men's coach for the second time in his career, adding to his 2011 award.

Wabash will return to action Saturday, November 16 at the NCAA Great Lakes Regional, with Calvin College serving as hosts for the event.