Brogan Explores Ancient Lives of the Senses
by Steve Charles • October 23, 2013

Share: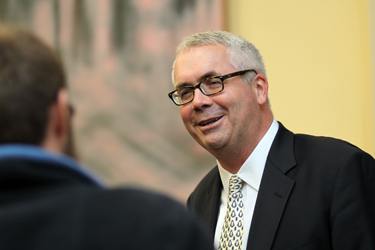 The year is 1510 B.C. and you are squatting in a small house in the village of Papadiokampos on the island of Crete, sampling the steaming soup of crab, limpets, and top shells simmering in a tripod cooking pot heated by a nearly smokeless fire fueled by olive oil paste.
Or you could be a perfume maker in the nearby town of Mochlos, crushing pinkish-purple cistus flowers with a heavy stone tool and combining them with a blend of olive oil and coriander, inhaling the surprising aroma of cinnamon.
Or you might be a child in the artisan's quarters on the Cretan island of Chryssa, holding your nose to the noxious odor of purple murex shells as your father crushes them to be cooked into dye for the vivid purple colored cloth your family exports across the Aegean Sea.
Thanks to newer recovery methods archaeologists are using to excavate ancient sites, scholars can imagine with unprecedented detail the ways people lived thousands of years ago. On Monday, Tom Brogan '88 returned to campus to describe those methods and to share the ancient "lives of the senses" he's discovering with them.
Professor Emeritus of Classics Leslie Day introduced her former student, now the director of the Institute for Aegean Prehistory Student Center for East Crete (INSTEP). She recalled some of the lighter moments of taking Brogan on his first archaeological dig at Kavousi, Crete. In fact, of all the Wabash Classics professors of Brogan's student days attended Monday's talk, "Flavors, Aromas, and Bright Colors: Making 'Sense' of New Discoveries in Late Bronze Age Levels on Crete."
"It's an honor to have all those who taught me in Classics at Wabash in the same room here tonight," Brogan said before describing the recent developments in archaeological methods that have fueled his and colleagues' recent discoveries.
"The new recovery methods really drive the show," Brogan said. "In the last 25 years we have been introducing more science, drawing from a wider range of disciplines, been more rigorous, theoretical, even experimental as we try to test our data assumptions."
Brogan and his colleagues employ ground penetrating radar, extensive soil sampling, and even organic chemistry in their scientific approach to "household archaeology at ancients sites on Crete.
"It's a type of theoretical modeling that adapts well to the sites where we've been digging, and it begins to put people back in the sites we're looking—we're spending more time and effort thinking about the people who once lived inside these sites."
Brogan described the process used to excavate Papadiokampos, discovered in 2004. Brogan joined the excavation team in 2007.
"In addition to hand collection of bones, small tools, vases, and all the environmental material, we also collected 400 soil samples from 10 rooms," Brogan explained. "The samples were then floated to look for small organic remains, and that allowed us to pinpoint the data we found—to better imagine what things were going on where in the room.
"We're also using organic chemistry to look for organic residue, and we collected samples from 600 vases inside this house at Papadiokampos."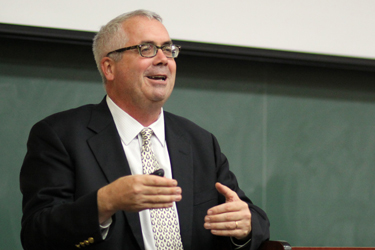 Brogan acknowledged that the latter method is controversial, noting that even one of its proponents had recommended such results be considered "not with a grain of salt, but with a boulder of salt."
"Still, this has the potential to be a major game changer," Brogan said.
So, what have these recent techniques revealed?
Among many other discoveries at Papadiokampos, Brogan and his colleagues found in one room a large cook pot with residue from an uneaten meal, a "Cretan seafood soup—limpets, top shells, crabs, and a lobster."
A team of experimental archaeologists used that information to "make the pots, cook the meals, and to learn how they taste."
"That's the archaeology of the senses in a nutshell.
"Our potter makes the pots, then it takes three to four hours to cook these meals. We also have a Jordanian chef who helps us work on the recipes, combining environmental data collected in the room plus the things we know were available on Crete at that time in history."
In the nearby town of Mochlos, Brogan learned "what people of this time were doing to harness some of the islands more attractive smells."
The team excavated what Brogan believes to be a workshop for making perfume. In "a sort of interurban manufacturing center," the team found olive oil residue mixed with coriander.
"We know from tablets of the period 150 years after this building was abandoned that coriander was an essential ingredient that made oil more receptive to fragrance," Brogan said.
In one vat archaeologists found residue of all the ingredients needed for perfume.

"Among the aromatics found there were compounds connected with linden and cistus flowers, and cistus is used in Cretan rock rose, which Crete is still famous for today. It gives off a cinnamon smell."
The final location Brogan described Monday—the island of Chryssa—he called "my favorite excavation site.
"There was unheard of preservation there—we found 1,000 intact pots, still standing up, all organic information still in the pots."
They also found loom weights and other evidence of textile production, and thousands of murex shells used in the creation of purple dye.
"It looks as though Cretans in about 1850 BC began exploiting this resource on a massive scale. Like the perfume in Mochlos, this colored cloth was an export."
Excavating "a purple dye workshop," the team found bronze knives, crushed murex shells, and a thick layer of black debris which, soil samples suggested, was composed of crushed olives and almonds used for a fire to make the dyes. In another room were loom weights, further evidence of textile making.
"We have Roman prints that describe the process, and it seems to fit what we can imagine was being done here," Brogan said.
With the new methods being employed by archaeologists like Brogan, we are able to imagine not only what was being done there, but also the sights, sounds, smells, and tastes of—and perhaps even what it felt like to live in—ancient times.