Faculty Profile - Prof. Bobby Horton
by Tom Runge • September 19, 2013

Share: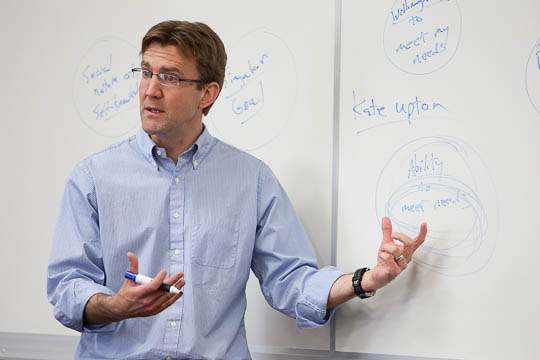 Name: Bobby Horton
Your background: I grew up in Stone Mountain, Georgia, before attending University of Richmond for my undergraduate degree and then UNC-Chapel Hill for my graduate degrees. My wife Naomi and I have been married for 11 years and have three children, two boys and a girl. Our family spends a lot of time at the local Boys and Girls Club soccer fields (all three kids play, and I coach) and at the Crawfordsville High School pool (our two boys swim for the local club). When not running to sporting event, we like the hike the local state parks or the Sugar Creek Trail.
Department and specialty at Wabash: Psychology; specialty: Social Psychology
Favorite part of Wabash: Relationships with students and faculty colleagues.
Favorite place on the campus: The arboretum, particularly the path between Hays and the corner of Wabash and Grant.
Favorite food: I like just about everything.
Something most people don't know about you: I like to dance (shhh….)