Hess: 'A to The; from But to And'
by Howard Hewitt • August 29, 2013

Share:
President Gregory Hess spoke of Wabash tradition and new goals in Thursday's Chapel talk, the first day of the 2013-2014 school year.
The new President and Sphinx Club broke with recent tradition and hosted a packed Chapel on the first day of classes. Hess delivered a talk titled, "Why I am Thankful for Wabash College." During his remarks he suggested a new mojo to go along with the great mission statement, Gentleman's Rule, and the College's great motto.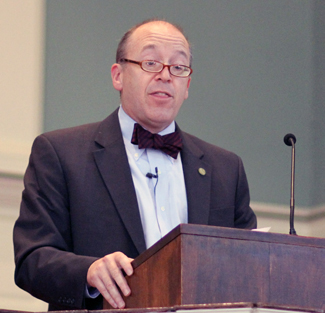 "I want us to move from "A to The and from But to And," Hess said. "And by that I want us to be The Liberal Arts College for Men, not just A Liberal Arts College for Men.
"I want us to move from 'We're a liberal arts college, but it's for men,' to 'We're a liberal arts college, and it's for men.' That's what I mean by 'From A to The and from But to And.' "
And then he delivered the words that rang with students and, certainly, alumni alike. "As long as I am President, I will never apologize for Wabash being a liberal arts college for men. I'll ask you never to do so as well. It is what makes us distinctive, and it is what makes us great. We need to demonstrate and educate others about how best to educate men."
He began his Chapel Talk with words from poet e.e.cummings about being thankful. He outlined three themes that he would emphasize throughout the year: The value of a liberal arts education; Our need to continue to expand Wabash's Academic footprint; and, Enhancing the leadership capabilities of our young men.
He said he would not take the time to introduce himself and talk about how he got to Wabash because he thinks he should "tell the story about Wabash College and not be the story of Wabash College."
He praised the College Mission Statement to To Educate Men to Think Critically, Act Responsibly, Lead Effectively, and Live Humanely. He called it "the most elegant, succinct, informative, and parsimonious as that of any liberal arts college that I know." The president then drew laughs when he said it could only be better if it were a haiku.
He saluted the Gentleman's Rule, and compared the expectations of the "lifting our collective sights" to Martin Luther King's 'I Have a Dream Speech" and President Obama's words at Wednesday's 50th Celebration of King's speech.
He talked about students, staff, and faculty he met during his two months on the job and how "this place drips with commitment to our very unique purpose."
Hess's entire Chapel Talk will be here and on the Wabash YouTube Channel shortly.