Student Profile - Jeremy Wentzel '15
by Tom Runge • August 26, 2013

Share: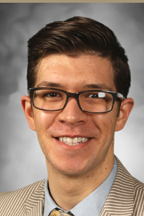 Name and Class year: Jeremy Wentzel '14
Living unit: Morris Hall
Major: Rhetoric and Political Science
Campus organizations: Wabash Conservative Union, shOUT
Leadership positions held on campus: VP of the Student Body/Chairman of the Senate, Audit and Finance Committee
Currently serving as (student leadership position): President of the Student Body and Chairman of the Senior Council
What made you decide to attend Wabash: After investing a great deal of efforts into going to Southern Methodist University in Dallas, it became clear that not everything was falling into place. A significant scholarship then came through on the home front, and an alumnus encouraged me to visit Wabash. At the last minute in the college search, I realized that many things in life were about taking chances. Why else did Wabash consistently send young men into leadership roles among the public and private sectors throughout the Midwest? What did the term "liberal arts" mean? All the alumni were doing great things, but weren't "trained" to do so. If the college was so good, why didn't they try to obnoxiously flaunt it like other schools? I had no idea what to expect of a Wabash education. After having primarily female friends in high school, I was fully aware of the need to be more comfortable interacting with men if I were ever to be successful in life. In addition, it became clear that most students my age were shopping for a college with all the perks they wanted. What would happen if I chose a college that sold itself on an education, as opposed to luxurious amenities? My consumer-ridden attitude was shattered – a decision that has changed my life. I live for Wabash, as opposed to Wabash living for me.
Favorite course thus far and why: PSC 335 with Dr. Lexie Hoerl. This seminar was an immersion course which brought the class to Florence Italy to explore Machiavelli and how public space influenced political decision-making in 14th and 15th century Tuscany. The course led me to pursue my own independent research on midcentury modern architecture in Palm Springs, California- an alternative style of design, yet explored through the same political lens. REL 181: Religion in America, with Dr. Jon Baer, was also a great course!
Favorite Wabash moment: Whenever an emotional or simply captivating chapel talk has concluded. It's such a privilege to sing "Old Wabash" as a community. Whether it's a publishable speech, or a response to a tragedy, history is written in Pioneer Chapel every Thursday morning of each academic term. When we sing together, we reflect on the significance of yesterday, as well as the opportunity of tomorrow. We do so in a communal fashion of song, for the sake of tradition. And of course, because we're Wabash College.
Favorite place on campus: Whenever the chance arises to sneak into the Caleb Mills House, I'm always in awe! When not scheming that opportunity, I make sure to hang around the grand staircase on the arboretum side of Detchon.
Plans after Wabash: I'd like to flip houses, produce great profits for a company, work in politics, address issues of energy, and own a boutique hotel in southern California during various stages of this life. I realize those plans may change, and it won't bother me a bit. Gaining exposure and putting the liberal arts to the test is what is needed right now. I'm ready to be challenged in something I don't know much about, but that I deeply care about. I'll learn it, and work to eventually lead it. Constantly evolving visions, alongside steadfast strategic thinking, is what drove (and continues to drive) individuals to do the unthinkable things we cherish during the present and in the future. Mark Miles '76 put it best in the last issue of the Wabash magazine: "You take lefts and rights, see where the journey takes you. It's the journey, not the destination." After learning from and observing amazing alumni, staff, and faculty mentors at Wabash, I'm ready to get my hands dirty on a new journey.
Tell us something very few people know about you: My grandfather, Peter Mansour, was the first person to open a pizza parlor in Indianapolis. He opened the small shop near the Irvington Theater, and would fan pizza smells through the vents. Needless to say it became popular and the business evolved into an Italian restaurant that is still operating today, Italian Gardens. He was 100% Syrian, but said he was 100% Italian. He was stuck in a foxhole for over a month in Guadalcanal during combat in WWII. His humor and wit helped him become a high roller and frequent visitor in Vegas. During that time he taught many Hollywood folks a few tricks on how to play Blackjack, including Telly [Kojak] Savalas. His work ethic, humor, and quirkiness influenced me greatly- particularly how the American Dream can be something different for everyone.