Anxious sons, emotional moms, and bemused dads set the tone for the early morning hours of Freshman Saturday. The first day of a four-year college education brings mixed emotions.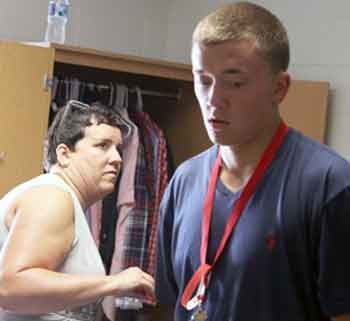 More than 240 young men moved into dormitories and fraternity houses at Wabash College to kick off a five-day orientation process before Thursday's start of clases. The first order of business was getting the young men settled into their new living quarters.
The parking lot was full and hallways busy in College Hall was busy as 19 young men were meeting upperclassmen and other freshmen. A high-spirited camaraderie had many of the young men grabbing baskets of clothes, refrigerators, and muscling bunk beds around the room helping each other settle in.
"It's a lot of stress and anxiety but excitement too," said Cole Crouch '17, Indianapolis. "I'm excited to get through the rest of the day.
But there is a lot of emotions running through my Mom definitely. She doesn't want to leave me. I'm her only boy. But I'm overall, "I'm excited."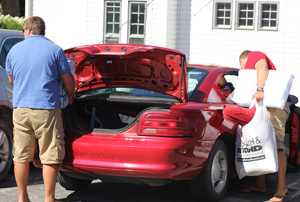 John Laird,a senior Residential Assistant, was on hand acting as traffic cop, advisor on arranging rooms, and occasionally providing a little muscle to help get everything out of the trunk and into the rooms. He was supervising the near 20 young men finding their new home.
Many of the young men were looking past today and were anxious to get the real work started. Crouch, who is one of the 2017 Lilly Scholars, said he is ready to start school.
"I'm also excited about starting swimming and meeting my roommate whenever he gets here. I want to meeting the guys next door and down the hall. It will be great meeting with my advisor today, getting scheduled, getting my books, and starting classes next Thursday."