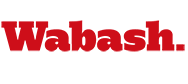 Regional Associations Host Golf Outings
by Michael Warren

August 14, 2013

Over the past couple weeks three Wabash College regional associations hosted golf outings for Wabash alumni, family, and friends.

The St. Joseph Valley (South Bend) Association of Wabash Men, led by Roger Senkbeil '68, hosted its 13th annual outing with DePauw alumni on a beautiful afternoon at Knollwood Country Club in Granger, IN. Many thanks to Roger for his efforts to put on a great outing and to all the sponsors for the event. If you missed the outing this year, we hope you will consider joining us next summer. See photos here.

The rain gave way to a mostly beautiful afternoon for golf in the western suburb of Oak Brook on Monday, August 5 as the Wabash Club of Chicago hosted its annual outing. The Oak Brook Marriott resort and Willow Crest Golf Club was the site again this year. President Greg Hess and his wife Lora made the trip from campus to join the group for dinner following golf giving many of those in attendance a chance to meet them for the first time. Huge thanks to the 17 hole sponsors and to Nathan Dinger '05, Joe Martin '06, and Eric Schoettle '93 for hosting another successful outing to benefit the Wabash Club of Chicago Scholarship Fund. See photos here.

Brandon Roop '06 and his father Rick organized the Evansville Association of Wabash Men outing at Rolling Hills Country Club in Newburgh, IN on Thursday, August 8. Typical August heat and humidity were barely noticeable allowing the area alumni, family, and friends participating to enjoy a great round of golf on a beautifully manicured course. Thanks to those who participated in the outing this year. Not that one needs more incentive to join fellow Wabash men for any occasion, but Brandon and Rick have great plans for the outing next year. We hope to see more of you next summer. See photos here.