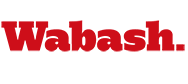 A Fulfilling Life
by Joni Jeffries

June 25, 2013

Curt Schmitt '81, maker of fine furniture and cabinetry, works out of his studio, just a few steps from his house in New Harmony, IN.

"I think I do what Wabash does," Schmitt says. "It doesn't really matter what you do, as long as you do it in a fulfilling way. Not just fulfilling for me personally, but that contributes somehow to something bigger. Once you begin to live that, then you're living a fulfilling life."

The studio—a remodeled 1930s barn—is located on a five-acre wooded lot that Schmitt and his wife, Paula, call home. The original house couldn't be salvaged so he built his own.

"I laid every piece of wood in that house," Schmitt says.

He grew up in rural Greenfield, IN. "If we wanted something, we made it. My dad always said: 'Either do it right or don't do it at all.' It's cliché, but it sank in, and has been a guiding factor in my life."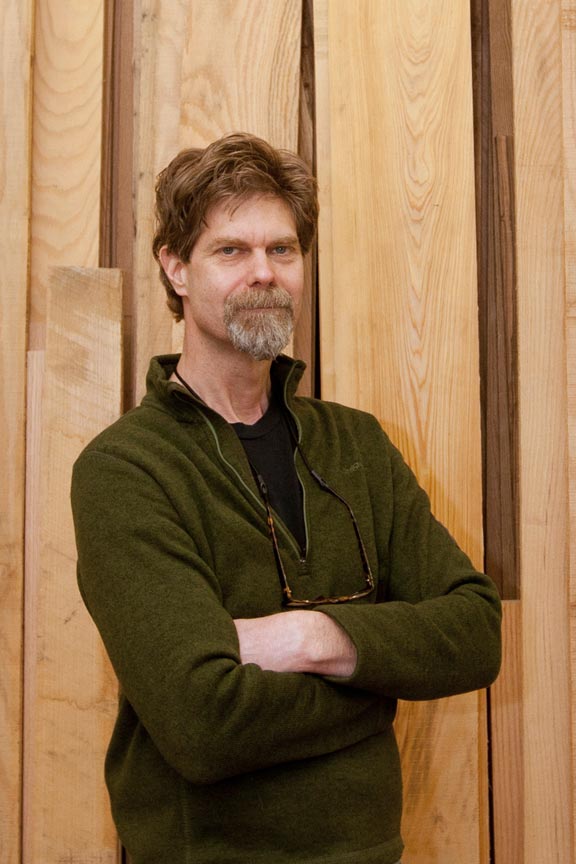 A quick tour of the showroom highlights Schmitt's eclectic mix of classic and avant-garde furniture with clean lines and intricate handwork. He designs furniture one can imagine fitting as comfortably in a kitchen as in an art gallery. In the center of the room leans an imposing Maypole recently featured at the International Labyrinth Society Convention. On closer inspection, the fine details of the pieces come to life. The wood appears in places to have been molded by bare hands, curves dug out by fingers instead of knives.
Schmitt describes his style as "Asian, Shaker-Inspired, contemporary." His studio was recently part of the Tri-State Artisans Studio Tour and his work was showcased at the Arts in Harmony festival and the New Harmony Gallery of Contemporary Art.
You can find Schmitt's furniture in homes and businesses across the country, but his focus is local. He and Paula chose this small Indiana town, once the site of two Utopian experiments, because it is rich in culture and history. Schmitt uses nearly all local wood for his furniture and is an active member of the community, serving on the local school board.
It seems a settled and well-grounded way of living, but the move to New Harmony came after a seismic shift in Schmitt's life. He's been a full-time furniture maker, his second career, for fewer than seven years.

"I've never been goal-oriented. I hope, at Wabash, students still study for the sake of learning. Too many people are going to college to learn business and not any context to put that into. It's affecting the values of our entire society, instilling in the culture that money is the highest value."
Schmitt came to Wabash in 1977 to study things he was interested in. Beginning as a pre-med student, Schmitt quickly learned that wasn't the path for him.
"The fact that Wabash students have to take a range of classes early on gets them thinking about subjects they may never have thought of."
His freshman tutorial with Professor Bill Placher '70 left him wanting more. He enrolled in Placher's Images of Jesus class, which "brought together my interests in philosophy, religion, and literature."
By second semester of his sophomore year he was a religion major, English minor.
"If I wasn't outside building something, I was inside reading. Wabash instilled in me the science of studying oneself in the context of greater concerns. Wabash opened up a whole new world to me."
He was also influenced by Professors Eric Dean, David Greene, Don Herring, and Don Baker.
"Wabash offered rigorous academics while instilling an interest in study. A love of studying."
While working his senior year in the development office he met Paula. The first piece of furniture he sold he built in his basement apartment of married student housing at Yale.
At 23 the Yale graduate was offered the department chair of religion and philosophy at a college-preparatory school for boys. Schmitt had hoped to find an atmosphere and personality similar to Wabash.
"Turned out it wasn't, exactly," he says.
Schmitt taught in a style similar to his Wabash and Yale mentors.
"Wabash, and more than anyone else, Bill Placher, really opened up the study of religion to me."
These were insights he hoped to share with his own students. But Schmitt's objective approach to religious studies wasn't embraced by everyone at a school that still called its religious studies courses "Bible class."
"One of the problems with institutional religion today is that they don't do enough to teach people how to really read the Bible. That's what I was trying to do and that's threatening to people who have only learned to read a certain way rather than been taught to read on their own."
"I taught school for 23 years, so, obviously, there were a lot of things I enjoyed about it." But steady opposition to his approach took its toll. "It caused me to re-examine my effectiveness as a teacher. Gradually I gave up teaching religion completely and started teaching art full time.
"Teaching a new subject kept me engaged with my students and re-energized me in the classroom. Once I began teaching art, I had more time for woodworking and sculpting. During the last four years of teaching it developed into a business."
Today, that business is thriving. He has the largest backorder he's ever had and his reputation as a fine craftsman of furniture is well-established in the region.
"Life is change," Schmitt says. "I think life is a lot easier and more enjoyable when you embrace that fact."

See more of Schmitt's work: www.curtschmittcabinetry.com