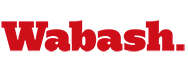 Wabash Center Celebrates 1000th Participant
by Jim Amidon and Steve Charles

June 6, 2013

The Wabash Center for Teaching and Learning in Theology and Religion, founded on the Wabash campus in 1996, celebrated a milestone Wednesday night. Dr. Morris L. Davis, Associate Dean at Drew University Theological School, became the 1000th person to participate in the Center's life-changing and career-defining work.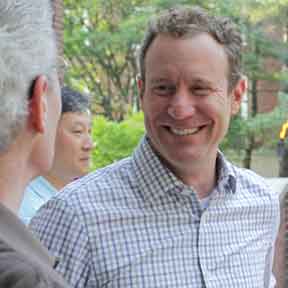 In toasting the Center's success, Wabash's Dean Gary A. Phillips said, "For the Wabash Center, it is fitting and proper that we acknowledge an individual rather than a date or particular workshop. The heart of the Wabash Center mission is direct support of teachers engaged in the transformative work of teaching and learning in religion and theology. That means concretely support of persons, women and men, whose calling is to serve students and their education as classroom teachers."
Founded by Raymond B. Williams, LaFollette Distinguished Professor in the Humanities Emeritus, and funded wholly by Lilly Endowment Inc., the Wabash Center works closely with faculty and administrators across the country to strengthen teaching and learning in undergraduate, graduate, and seminary schools in the areas of theology and religion.
The milestone event included a gathering of Wabash Center staff, representatives from Lilly Endowment and Wabash College, and current workshop participants on the patio of the Center's lovely building on campus.
"I was stunned to hear we'd reached 1,000 participants," said Dr. Williams. "I didn't have any idea it would continue on this long. We got a three-year grant, then we got another one, and it just continued. We were only promised three years at a time and I never imagined we'd have a building."
The building, important as it is, is secondary to the incredible work that happens within its walls.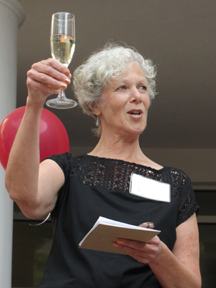 "With every passing year, the circle of those touched by the Wabash Center's influence and programs grows larger," said Wabash President Patrick E. White. "We celebrate with the sure knowledge that each participant, from the first through the most recent, has been profoundly changed by their experience and will continue to influence hundreds of others. In this way the Wabash Center's focus on transforming teachers one at a time in collaborative small groups and through welcoming and challenging conversations has done nothing less than effect a quiet but powerful revolution in the teaching and learning of theology and religion, thus bringing new life to vital aspects of American culture."
Dr. Nadine "Dena" Pence, the Director of the Wabash Center, said the 1,000 faculty who have participated in on-campus workshops and colloquies come from 400 different institutions and many religious traditions and subject disciplines. The Wabash Center, too, has given 1,171 fellowships and grants to faculty in religious and theological studies totaling nearly $13 million, and the Center's journal, Teaching Theology and Religion, has published articles by nearly 400 authors. The Wabash Center's staff members have participated in more than 225 on-site consultations at schools across the country.
"Since 1996, the Wabash Center has been known for provoking conversations about teaching and learning, and providing hospitable space for those conversations to happen in a sustained manner," Dr. Pence said. "In an environment of higher education where conversations about teaching and learning are frequently absent, these conversations, practices, and networks of support sustain the faculty members as they negotiate questions about student learning, institutional mission, and vocational goals."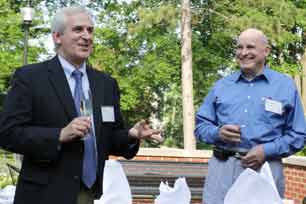 Among the guests was Chris Coble, Vice President of Religion of Lilly Endowment, who credited Dr. Williams' vision, the excellence of the Center's directors (Williams, Pence, and Lucinda Huffaker), and the program's attention to detail.
"When I started at the endowment in 1997, Craig Dykstra, then our Vice President of Religion, gave me a stack of proposals that he thought were exemplary proposals so a new program officer would know what to look for," Coble said. "On the top of the stack was a proposal prepared by Raymond for the Wabash Center. I was amazed in reading the proposal not only at how well it was put together, but also by the attention to detail… I think this is symbolic of the attention to detail, especially the attention to hospitality and how to host a conversation that this place is about."
Dr. Morris Davis, Dean for Academic Affairs and Associate Professor at Drew University Theological School, unknowingly became the symbol of the Wabash Center's celebration. He's among a group of a dozen deans working together this week on the Wabash campus, and he was literally the 1,000th workshop participant to "cross the threshold." When Dr. Sarah Drummond, Dean of Andover Newton Theological Seminary, left her luggage at the van, Dr. Davis went to retrieve it. As a result of his kind deed, Davis became participant number 1,000 (Drummond was 999).
"It was a big surprise, that's for sure," Davis said. "It just depended upon who got out of the van last. Sarah dropped her bags, I picked them up; she was 999 and I was 1,000. They had confetti bombs going off when I crossed. We'd heard about the hospitality of this place, but wow!"
Aside from his surprise welcome, Davis gave high praise to the Wabash Center and its staff for creating an environment that allows scholars to learn from one another to improve their teaching and administrative talents. "It's particularly great for us deans, who don't get many chances to talk about what we do with anybody else. There's a lot of this that nobody else really gets. I think as soon as we all got here, we just came together. It's been nice telling stories and discussing problems, and everyone else here knows what you're talking about."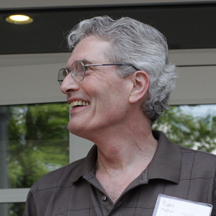 Overall, the Wabash Center has received eight grants totaling more than $40 million from Lilly Endowment Inc. for programming that has touched the lives of almost 3,000 faculty members and 700 schools.
Wabash Dean Gary Phillips ended his toast to the Wabash Center's success by saying how appropriate it is that Wabash College serves as the host site for the important work of improving teaching and learning in colleges, theological schools, and seminaries.
"Begun in 1832 as a Latin high school and rising up to become a liberal arts college for men as the needs of the nation demanded, Wabash College made its mission one of educating teachers and preachers for communities at the then far-flung edge of the inhabited west (today's Midwest)," Dean Phillips said. "The need then was for literate leadership in two of our most important social realms: the classroom and the church. Those needs persist even more so today. How fitting and proper then that Wabash College 180 years later welcomes and supports the effort to educate the educators of religion and theology — teachers and preachers of excellence at a College that strives to be a servant of excellence."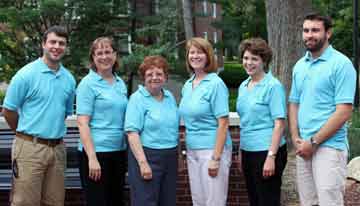 The Wabash Center is directed by Dr. Pence. Dr. Paul Myhre and Dr. Thomas Pearson serve as Associate Directors. The staff includes Rita Arthur, Coordinator of Grants; Sherry Wren, Communications Coordinator; Patricia Overpeck, Meeting Coordinator; Beth Reffett, Administrative Assistant; and Karen Myers, Editor of Teaching Theology and Religion. Each summer, the Wabash Center employs two students to serve as interns. This year's Student Assistants are Jim Blaich '15 and Shane Brown '15.
For more information on the Wabash Center, please visit its website.