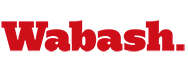 Alumni Chapel Sing Fires Up the Spirit
by Howard Hewitt

May 29, 2013

The Big Bash Alumni Chapel Sing is always one of the weekend's highlights. The rain stayed away and the classes competed on the steps of the Chapel.

The winners will be announced at Sunday morning's award brunch! Here is a video of the Chapel Sing grand finale!

Wabash men come from near and far to join classmates in celebrating the Big Bash Reunion Weekend. Some may have traveled a greater distance but Dick West '63 probably would win a prize for the most circuitous route.

The 10th Big Bash reunion weekend kicked off on a damp Friday morning with golfers at Rocky Ridge and alums making their way to Chadwick court for registration. The weekend events run through Sunday brunch.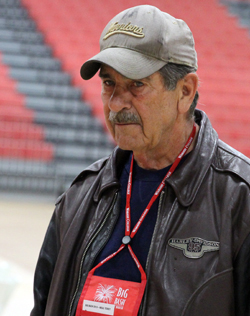 West '63, a retired orthopedic surgeon, made his way to Wabash from his Marshall, NC, home via Arizona, Utah, and then Indianapolis. He spoke of his 4,000-mile journey in rather casual terms.
"I thought I'd just wander slowly, take in the annual meeting and then go home," he said. "I went south eventually to Springerville, AZ. Then I went to Kanab, Utah and stayed with some friends for a few days. Then Durango, Co., and stayed with a friend a couple days, then across the Midwest to Indianapolis. I stayed with a friend a couple days there and now I'm here."
He made a splash 10 years ago arriving in a semi-trailer truck. After retiring 15 years ago from the operating room, he decided to be an over-the-road driver for a year!
West got his first motorcycle when he was 14 years old. During his years at Wabash, West was known for sporting about Crawfordsville on his Ducati motorbike. "Then at age 50, I started all over again," he laughed.
The 2013 weekend gathering features Wabash classes ending in the years three and eight. West's Class of 1963 will take center stage celebrating its 50th reunion.
Several members of the Class of 1963 gathered early on Thursday evening to begin their 50th reunion. More than 400 alumni and family members are anticipated on campus throughout the weekend from the Class of 2008 through the Class of 1943.
See a detailed weekend schedule here.
Activities wrap up Sunday morning with an 11 a.m. Awards Brunch.