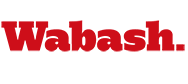 Western PA Alumni Honor Pat and Chris White
by Michael Warren

April 18, 2013

The annual spring dinner for the Western Pennsylvania Association of Wabash College took place on April 18. Held once again at the Allegheny HYP Club in Pittsburgh, alumni, family, and friends gathered to honor President Pat White and his wife Chris.

Following dinner and a fantastic tribute and introduction of Pat and Chris by Eriks Yanelsins '03, both took a few moments to talk about Wabash, her alumni and friends, and most importantly her students. In lieu of a traditional gift typically given to the honoree(s) at this event, the association made a monetary contribution, in the White's name, to the Montgomery County Free Clinic, which Chris White was instrumental in establishing while serving the Crawfordsville Community.

Special thanks to Lyndall Huggler '83 for handling the evenings arrangements and for serving as emcee.

Please click here for photos from the event.