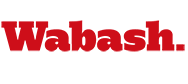 Le'13 Presents Economics Paper at Meeting
March 29, 2013

Wabash promotes the opportunity for students to work side by side with faculty and conduct research. Students like Huy Anh ("Tommy") Le '13 also earn the honor of presenting their work at professional conferences.

Le '13 presented a paper Ma.23 titled "Urbanization and Economic Development in Vietnam: An Environmental Look (1986-2008) at the Midwest Economics Conference in Columbus, OH.

"Tommy's paper was selected via a competitive process for a student panel," Economics Professor Christie Byun said. "It was a great opportunity for Tommy to present his work to other scholars in this area, and to network and receive feedback on his work from well-known scholars and other undergraduates in Economics."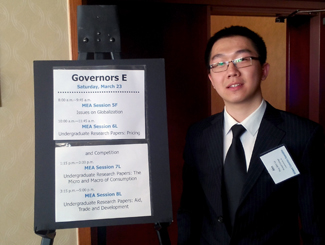 Le plans to attend graduate school and pursue a doctorate post-graduation from Wabash..
"The conference is the biggest and the most renowned regional annual economics conference in the Midwest," Le said. "It is geared toward professionals, graduate students, and professors of economics. Only a few undergraduate presentation sessions are admitted to present at the conference through a competitive selection process. Thus, I'm honored to represent the economics department of Wabash College."
Le said he appreciate an intensive paper critique session and learned a lot on how to improve his research. "After my presentation and hearing from the session chairs, I have come to realize that the education I received at Wabash gave me an edge over other presenters in the room - that is the ability to think beyond the box, the flexibility with economic models and statistical tools (the economic department prepared me really well for economic research with intensive models and tools that many schools do not usually teach students), the critical thinking skills that enabled me to think on the spot, and most importantly the amount of confidence I have when doing my presentation. As a future graduate student next fall, this opportunity definitely means a lot for my future goals of being a researcher and working in academia."
Le also credited Professor Byun for her assistance in editing and motivating him during his research.
"Aside from academic research, we also engage in discussion about different matters of economics studies, which in one way or another helped me a lot with idea brainstorming and improvement of my economic analysis. Her environmental economic seminar also provides me with rigorous framework to conduct this research."