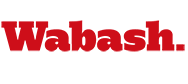 Wabash Captures Third Straight T&F Title
by Brent Harris

March 2, 2013

For third straight season, the Wabash College track and field team has climbed to the top of the podium as the men's winner at the North Coast Athletic Conference Indoor Track and Field Championships.

The Little Giants came up just short of their record total of 238 points scored in last year's title run, but became the first team in conference history to score 200 or more points in three consecutive meets. Wabash won the 2013 team title with a total of 202.50 points, followed by Ohio Wesleyan with 168.50. Allegheny was a distant third with 58 points. Denison (54.50), Wittenberg (50), Oberlin (46), Kenyon (37), DePauw (36.50) and the host school Wooster (31) completed the team scoring.

Wabash head coach Clyde Morgan and his staff were honored after the meet as Coaches of the Year.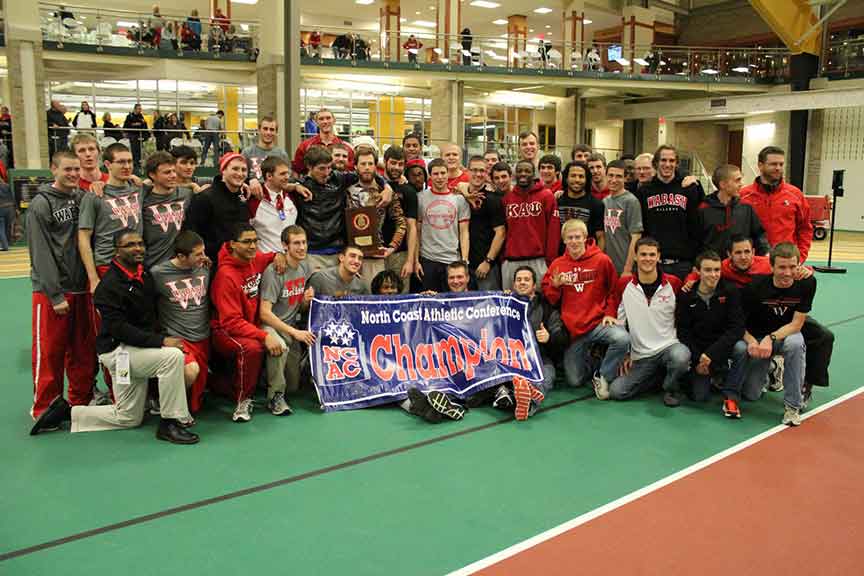 "This was the ultimate test of our team motto 'Men Of Wabash, Nothing Breaks Us' because of all the adversity we have gone through this season and during the meet," Morgan said. "It took a total team effort to get this done. The NCAC is getting tougher and tougher every year. We knew we were going to have our work cut out for us. Ohio Wesleyan has a great coaching staff and a very talented group of student-athletes.

"I am so proud of these young men from Wabash for coming together and getting it done. My staff did a great job the last few weeks preparing for this meet. Coach Roger Busch's distance guys were outstanding. Coach Aaron Selby and Coach Alex Moseman worked with our throwers. That group really got us going both days. Coach Steve Rogers' jumpers had some personal-best marks and scored some important points for us. Coach Horace Turner and Coach Dave Keiser's vaulters all peaked at the right time. And Coach Rob Johnson continues to help us with whatever we need and we could not have accomplished this without him. That's why they are the staff of the year."

The Little Giants trailed Ohio Wesleyan entering the final day of competition. Wabash joins the Battling Bishops (2008, 2009, 2010 and 1999, 2000, 2001, 2002), Allegheny (2003, 2004, 2005, 2006, 2007) and Denison (1985, 1986, 1987) as the only programs to capture three or more consecutive NCAC indoor titles. Allegheny holds the conference record for consecutive titles with five.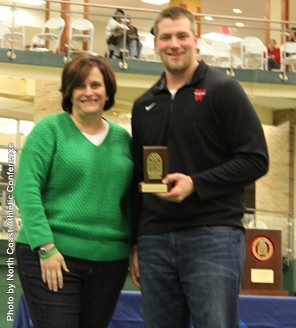 The points began to accumulate early in the weight throw. Wabash placed four athletes in the top-eight spots, led by Derek De St Jean. De St Jean, who won the shot put Friday night, earned NCAC Men's Field MVP honors by producing a season-best winning mark of 16.03 meters (52 feet, 7.25 inches) to capture the individual title in the weight throw. Pierce Velderman added a fourth-place finish in the event with a mark of 14.03 meters (46 feet, 0.50 inches, well ahead of his best effort of the year. Joe Sukup took fifth place with a season-best toss of 13.83 meters (45 feet, 4.50 inches). Joel Beier added another season-best throw of 13.70 meters (44 feet, 11.50 inches) to take seventh place.

Matt Knox score a conference title in the pole vault by clearing 4.70 meters (15 feet, 5 inches). He was the only vaulter to go over 15 feet. Jackson Reid tied for fifth place by vaulting 4.10 meters (13 feet, 5.25 meters).

Wabash turned in several record-setting performances in Saturday's finals. Ronnie Posthauer started by setting a new NCAC meet record with his winning time in the 60-meter hurdles. Posthauer crossed the line in 8.24 to eclipse the meet record of 8.30 set by Matt Hunter from Ohio Wesleyan in Friday's prelims. Nathan Mueller finished second in the finals with a time of 8.39. Matt Dickerson added a fifth-place finish (8.50), while Adam Wadlington finished sixth (8.57).

Charles Smothers topped his own school record on the way to a second-place finish in the finals of the 60-meter dash. Smothers turned in a time of 7.04 in the finals seven days after setting a new Wabash record of 7.06 at the Anderson Invitational. Hunter won the race with a time of 7.01. Sean Hildebrand was fifth for Wabash (7.22).

Senior Jake Waterman capped his NCAC indoor career with another title in the 800-meter run, outdistancing the field with a time of 1:52.87. Cole Hruskovich took second place by crossing the finish line in 1:54.10. James Kervan finished third (1:57.58), while Sean Lewis took eight place (2:03.46).

Nick Boyce was the winner of the mile run, posting a time of 4:19.26. Teammate Fabian House, who led the early laps of the race, took fourth place with a time of 4:27.99. Billy McManus added another distance victory for the Little Giants, turning in a winning time of 8:52.59 in the 3,000-meter run. Shane Hoebert was third for Wabash, taking All-NCAC honors with a time of 8:54.42. Boyce added a seventh-place finish at 9:01.76.

Kris Nickle picked up a second-place finish in the high jump for Wabash, clearing 1.93 meters (6 feet, 4 inches). Grayden Gilmore scored a fourth-place finish with a season-best mark of 1.93 meters (6 feet, 4 inches), clearing the bar on his final attempt to take fourth overall. Wadlington tied for seventh place in the high jump by clearing 1.73 meters (5 feet, 8 inches).

All four Wabash athletes competing in the 400-meter dash finals turned in top times for the year. Joel Whittington finished fourth in the event, crossing the finish line in a season-best time of 50.13. John Haley finished in 50.70 for sixth place. Joey Conti crossed in seventh place (50.84) in the 200, while Chet Riddle took eighth place (50.88). Hildebrand picked up a fifth-place finish in the 200-meter dash (23.19), while Riddle was sixth (23.23). Mueller picked up a point for the Little Giants with his eight-place effort in the long jump (6.16 meters; 20 feet, 2.50 inches).

Wabash added a pair of second-place finishes in two of the relays on Saturday. Whittington, Riddle, Conti, and Hildebrand combined for a time of 1:28.74 in the 4x200-meter relay, topping the old NCAC meet mark but finishing just behind Ohio Wesleyan with a winning time of 1:28.01. Whittington, Hruskovich, Conti, and Waterman took second in the 1600-meter relay with another meet-record time of 3:21.45. Wittenberg just nipped the Little Giants at the finish line to win with a time of 3:21.41. Zach Huston, Chris Stanzinski, Jacob Caddick, and Matt Avanatti took fifth place in the distance medley relay (10:39.18).