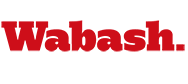 Students Spread Across Globe
February 26, 2013

Wabash College's hands-on learning means experiencing history, art, music, food, and culture at its origins. Many Wabash students are spending spring break around the globe for spring break/immersion learning week.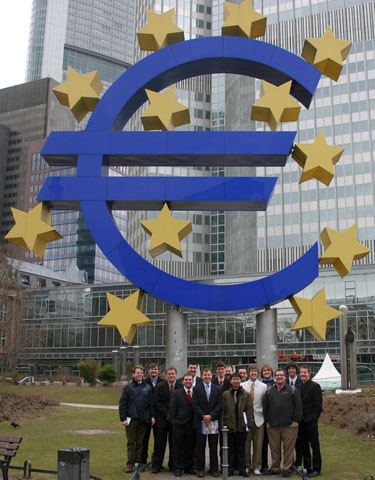 Wabash men have arrived in London, Brussels, Frankfurt, New York City, and Belize. The Glee Club is touring in Pennsylvania and many other students are doing community service work. The students will also document their excursions with blog posts and photos from their travels.
Dr. Peter Mikek of the Economics Department and Dr. Ethan Hollander of the Political Science Department, is leading a class studying the European Union to Brussels, Belgium and Frankfurt, Germany.
Among the trip's highlights will be a visits to Frankfurt's Stock Exchange, Money Museum, and the European Central Bank. While in Belgium, the students will see the European Council, European Commission, and visit the College of Europe. The 14 students will also visit the city of Brugge and Waterloo.
History Professor Dr. Stephen Morillo has joined forces this semester with Political Science Professor Scott Himsel on a class titled "The Role of History in Anglo-American Government." The professors' 14 students are in London for the week.
The week-long visit begins with a research immersion on the Battle of Hastings. Morillo is considered one of the world's foremost authorities on the battle. As the week continues, the students will visit The Inns of Court, The Royal Court, House of Commons, and House of Lords.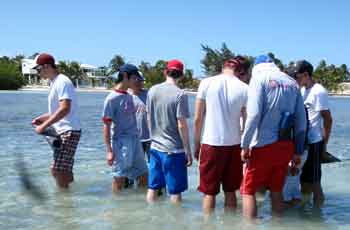 Biology students will be working hard, but in a beautiful climate in Belize. Dr. Eric Wetzel has returned to Belize for a trip he has led in previous years. The 13 students will have a great diversity of class projects. They young men will learn about turtle grass, the coral reef, and hear numerous lectures. A trip highlight will undoubtedly be several snorkeling sessions preceded by lectures.
Assistant Professor of Theater Dr. James Cherry is leading a class to New York City. The students will learn about American Theater first-hand during the week-long visit, and will among other activities, attend a production of Tennessee Williams' play Cat on a Hot Tin Roof.
"To learn about theater, you have to go to theater," Cherry said. "And while Indianapolis does offer some possibilities and we do great theater here at Wabash, there is no substitute for New York City: the center of the theatrical universe.
"Once there we'll take in the artistic and cultural diversity of NYC - we'll be seeing a Broadway musical at the former Studio 54, some new work downtown by young emerging artists, ScarJo in Cat on a Hot Tin Roof, and an immersive Macbeth/Vertigo hybrid that takes place over a block of Manhattan warehouses. When we're not at the theater, we'll be meeting with theater producers, critics and scholars, having fun in some acting workshops, and sampling some of New York's many gustatory opportunities. Vegetable samosas one night, braised octopus the next. Spend Spring Break anywhere else? Fuggedaboutit."
There will still be active learning on campus and in Indianapolis for a group of students learning marketing. Roland Morin '91 has led the week-long Marketing Immersion program and the summer eight-week Business Immersion program for the past several years.
The Marketing Immersion group is based on campus but will make several trips to Indianapolis during the week. Many of their visits will include time with Wabash alumni working in the marketing field. Trips include stops at Angie's List, the advertising agency Young & Laramore, and a week-long exercise developing marketing ideas for Montgomery County's Rotary Jail Museum.
Students have returned to New Orleans to continue a tradition assisting residents of the Lower Ninth Ward who are still rebuilding homes and lives after Hurricane Katrina.
Professor of Religion Jon Baer and Mathematics and Computer Science Emeritus David Maharry have been regular leaders of this group along with local church leaders. More than 15 students are set to make the trip to the Gulf Coast. They will be lodged at the Westside Mission, which has housed Katrina volunteers since the disaster. They will work at various building sites under the direction of a not-for-profit organization set up in the Lower Ninth leading the rebuilding effort.
Finally, the Wabash College Glee Club will travel to Pennsylvania for a series of concerts.
Sunday, Mar 3
10:30 AM Sunday worship service participation and 11:45 AM Glee Club concert at St. Paul's United Methodist Church
1965 Ferguson Rd
Allison Park (Pittsburgh) PA 15101
Tuesday, Mar 5
11:00 AM concert in the Grand Hall Lobby of Constitution Center
525 Arch St, Philadelphia PA 19106
- followed by a group visit of the Center's exhibits
7:30 PM concert at The Watermark at Logan Square
2 Franklin Town Blvd., Philadelphia, PA 19103
Wednesday, Mar 6
2:00 PM concert at Atria Center City
150 N. 20th Street, Philadelphia, PA 19103
Thursday, Mar 7
3:00 PM concert at The Quadrangle
3300 Darby Rd., Haverford PA 19041
7:30 PM concert at Freedom Village at Brandywine
15 Freedom Blvd., West Brandywine PA 19320
- post-concert reception for the Glee Club at the home of Fred Wampler '57 and Lura Wampler, Wayne PA 19087