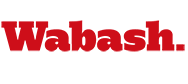 Actor Brigham Mosley Highlights Arts Focus
by Scott Morrison '14

February 7, 2013

Wabash has over an 80 percent acceptance rate to medical school. One in eight Little Giants is President or CEO of a company. Many other Wallies go on to law school after graduation. With all of these successes, sometimes the campus forgets about the arts, or at least that is what Careers Services Peer Adviser Hezekiah Eibert '15 believes.

That desire to spotlight the arts was the inspiration for Career Services' Arts Events this weekend. "Something that I see as a big part of the liberal arts is the arts itself," Eibert said. "That is something that I see as kind of downplayed here. Even though there is a lot of talent here, there are not a lot of people who take the time to look at what is going on in the arts both here at Wabash and in the bigger picture after school."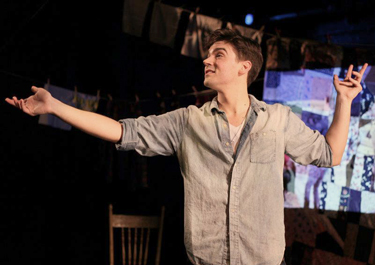 The weekend will kick off on today with an information session titled "All About THE Arts" aimed at informing current students about career and internship opportunities in the fields of the arts. An open panel discussion called Dine and Discuss will be held Friday at noon in Goodrich Hall. Brigham Mosley, an up-and-coming writer and performer; Ashley-Marie Quijano, artistic director of Odradek Theatre Company in Chicago; and Jonathen Wikholm executive director of Odradek, will all be present to speak with students and answer questions about their fields.
Friday, Mosley will perform his latest full-length work, "Mo[u]rnin'. After.," at 7 pm in the Fine Arts Center. "Mo[u]rnin'. After.," premiered at 9th Space in NYC's lower east side in February 2012. The weekend will conclude with a workshop led by Mosley on Saturday from 2 pm – 4pm in the Fine Arts Center as well. Both events are free and open to the public.
Eibert, who is a psychology major and religion and history double minor, has always appreciated the arts himself and participated in plays during high school. He hasn't tapped into his love of arts since coming to Wabash, but he thought his resources at Career Services would serve perfectly to spotlight those who are pursuing the arts at Wabash.

"We have brought a lot of other people like economists, energy traders, etc [to Wabash]," Eibert said. "You name it, and we have got connections or brought people to the school, but I haven't really seen anyone here since I started working for Career Services my freshman year that deals with the arts so this is something that I have felt we could bring better to the college."
Milan Vydareny '66, is the finance director for Odradek, helped connect Eibert with Mosley and the other event speakers. Vydareny has not been back to campus in a few decades but saw this as a good way to give back to Wabash and bring something to campus.
Mosley, who will be performing and leading the workshop, is a recent graduate from Southern Methodist University (SMU). He focuses on queer autobiographical work and his "Mo[u]rnin'. After.," highlights identity struggle for his ancestors as well as for himself as a gay man. "It is a show about grief and the sort of magic and ancestral line that is built in that process," Mosley said. "It's also along the tracks of Oklahoma! so there are songs and dream ballets and it is hopefully funny as well."
Mosley has also led theater workshops in New York City in addition to the writing and performing he has done, but this will be his first time leading a workshop at a college or university. Mosley said his first experience with autobiographical work came while he was an undergrad. "Tim Miller [my mentor] came to SMU, and he taught a workshop about making your own work and telling your own story and that really set the course for my career and the work that I am doing now," Mosley said. "It is exciting to be on the other end of that and to be teaching the skills that I have built. I'm nervous, I'm excited, and it's going to be a lot of fun."