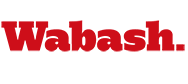 Gregory Hess Named 16th Wabash President
by Jim Amidon

January 26, 2013

Stephen S. Bowen, Chairman of the Board of Trustees of Wabash College, announced today that Gregory D. Hess has been elected the 16th president of Wabash College.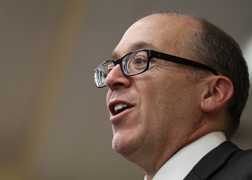 "I am honored and privileged to lead an institution that transforms gentlemen into everyday heroes," Hess said upon accepting the position at the 900-student liberal arts college for men.
Dr. Hess, who is currently the Dean of the Faculty and Vice President of Academic Affairs at Claremont McKenna College (CMC), will begin his responsibilities on July 1, and will follow Patrick E. White, who announced his resignation last May.
"The Trustees could not be more pleased with the work of the search committee in identifying an extraordinary pool of candidates," Bowen said. "The Board is proud to announce the election of Gregory Hess as Wabash's next president. He brings an impressive record of achievement as an economist, teacher, scholar, and administrator, and we look forward to working closely with him to help Wabash College achieve its mission."
In addition to his role as Dean of the Faculty at Claremont McKenna, Dr. Hess is the James G. Boswell Professor of Economics and a George R. Robert Fellow. In his current role, he oversees all aspects pertaining to academic affairs, including the curriculum, the Center for Global Education, the Center for Innovation and Entrepreneurism, athletics, institutional research, student learning outcome assessments, and information technology.
"Promoting and identifying Wabash College's distinctiveness as a 21st century liberal arts college for men is a critical element for the new president to articulate," Dr. Hess said. "Wabash needs to be known as an institution that understands the unique abilities and needs of young men, firmly grounds them in the liberal arts, and resolves to fully develop their cultural and skill-based competencies. A Wabash education must be made synonymous with the superb preparation of men to be the next generation of ethical and responsible leaders who will address the key challenges facing our country and their communities."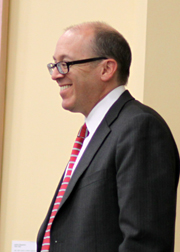 A native of San Francisco, he earned his bachelor's degree with high honors from the University of California-Davis, and his master's degree and Ph.D. in economics from The Johns Hopkins University.
In his tenure at Claremont McKenna, he implemented the academic fundraising outcomes of The Campaign for Claremont McKenna, including 27 professorships, a new Dean of Science position, the Robert Day Scholars Program for undergraduates and graduate students in a new Master of Finance program, and nine grants from national and international foundations. He initiated and facilitated a review of faculty governance at CMC, which included a complete revision of the faculty handbook and significant changes to the college's appointment, promotion, and tenure policies.
Dr. Hess has led several important curricular changes at CMC, including the establishment of a year-long freshman humanities and writing program, the Robert Day School of Economics and Finance and its master's degree program, and new Arabic and Portuguese language programming. He also helped establish summer programs in Amman, Jordan and Seoul, Korea, and created the Silicon Valley Semester Program and CMC's India Initiative in Delhi.
Dr. Hess has held teaching positions at Carnegie Mellon University, the University of Kansas, St. John's College (Cambridge), the University of Cambridge, London Business School, and Oberlin College.
Outside the academy, Dr. Hess has previously worked as an economist for the Board of Governors of the Federal Reserve System, as a consultant for Honda Motors of North America, and as a member of the Ohio Governor's Council of Economic Advisors. He has served as a visiting scholar for the Federal Reserve Banks of San Francisco, St. Louis, Cleveland, and Kansas City, the International Monetary Fund, and the Bank of Japan.
He has published over 40 articles in refereed journals and is the author of 20 book chapters and books. He has appeared as a guest lecturer or invited seminar speaker at more than 80 conferences and meetings around the world.
Hess and his wife, Lora, have two daughters, Abigail and Meredith.