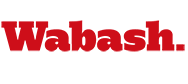 Generations of Alumni, Students, Faculty, and Friends Dedicate New Malcolm X Institute
November 5, 2002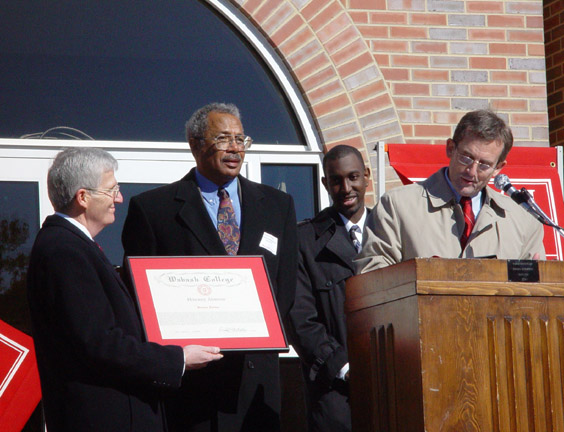 President Andy Ford and NAWM President Rick Fobes present MXI Director Horace Turner with an Honorary Alumnus plaque at the dedication of the new MXI.

More than 300 alumni, students, faculty, and friends gathered in front of the newly completed building for the Malcolm X Institute for Black Studies to celebrate a dream come true and a new beginning.

"When we sat down and talked about a Malcolm X Institute more than 30 years ago, it was a dream," said Charles Ransom '72, who co-founded the nation's first Malcolm X Institute at Wabash in 1970 along with a group of students, professors, and Wabash administrators. The Malcolm X Institute (MXI) resided in a white frame house on Wabash Avenue, offering a home away from home for students of color, courses in African studies, the KQ&K mentoring program for local school children, and a bridge to understanding between the races. The house was razed in 2001 and the Institute was moved onto the College campus, taking up its new quarters in a $2 million, 8,500 square-foot-building that will better equip MXI members in their mission.

"Never in my wildest dreams would I have imagined a place such as the one we're standing in front of today," Ransom continued. He admonished current students to make the impressive new building what he believes MXI has always been for its members.

"I challenge you to make this a home—a place where you can feel safe, a place you can feel comfortable in, a place you bring your friends to."

"The Malcolm X Institute has played an extraordinary role in the life of this College for all its students," Wabash President Andy Ford told the crowd of well-wishers, many of them alumni of MXI who had traveled from across the country to be at Wabash on Family Day for this dedication ceremony. Ford, MXI students and alumni, Wabash Dean of Students Tom Bambrey, and MXI Director Horace Turner had worked together on plans for the new Institute. "I thank everyone who labored so hard and so long on this building; the faith and patience they had in one another to get it right," Ford said. "I hope you think it's paid off. I do.

"We now have an expectation of the Malcolm X Institute meaning even more, as we try our very best to implement the mission of this College," Ford said, underlining MXI's important role in the College's effort to "educate young men to think critically, act responsibly, lead effectively, and live humanely." He concluded his remarks by reading from Malcolm X's "Letter from Mecca":

"'I have always kept an open mind, which is necessary to the flexibility that goes hand-in-hand with every form of intelligent search for truth.'"

"Let us hope," Ford said, "that we all search for truth in this MXI together."

MXI Director Horace Turner was named an Honorary Alumnus of the College and spoke briefly of the Institute's history.

"When I first came to Wabash in 1971, I happened to find a small group of committed students who exemplified the words, 'Wabash Always Fights.' As a result of their courage and perseverance, we were able to make Wabash and the Crawfordsville community more tolerable and respectful to people of color," Turner said. "I want to thank President Andy Ford and the deans of the college for their leadership during our transition to this facility. They were all instrumental in making our dream of a new Institute a reality."

"There are three words I'd like you to keep in mind today: chance, challenge, and commitment," Turner said. "Wabash and the Malcolm X Institute give you a chance to fulfill your dreams. We have a challenge before us to serve the legacy of both Wabash and the Malcolm X Institute. And in order to keep that alive, we must make a commitment that we, too, will preserve and help make sure that the Malcolm X Institute will work for future generations.

The celebration of MXI's dedication continued throughout the day, with alumni panels addressing the prospective students and current students interested in attending graduate school and Wabash and MXI alumnus and artist Nate Quinn '99 exhibiting his recent paintings in the College's Fine Arts building.

The events marked a day, current MXI chair Winston Shephard '03 said, "for celebrating a terrific new facility and honoring those who have made MXI an integral part of the life of Wabash College."

"But once the ribbon is cut, the real work begins," MXI Campaign chair Joe Mims '76 said. "That work is to ensure that this new building will provide a place where future African American students can grow and learn."