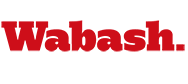 Clerget '09 Wins Prestigious Burton Award
May 23, 2012

Sean Clerget '09 has won the prestigious Burton Award for excellence in legal writing. Clerget is a third year law student at George Mason University in Washington D.C.

The Burton Award program was started in 1999 in association with the Library of Congress and its Law Library. Nominations for the award come from law school deans and managing partners of the 1,000 largest law firms in the U.S. Fifteen winners are selected each year.

Clerget has served as Articles Editor for George Mason Law Review. His winning entry was titled, "Time is of the Essence: Reviving the Neutral Law of General Applicability Standard Writing and Applying it to Restrictions Against Religious Face Coverings Worn While Testifying in Court."

"The creation and development of my Article had a number of Wabash connections," Clerget explained. "First, the Article is on the Free Exercise Clause of the First Amendment. I became interested in religious liberty issues by taking Professor Scott Himsel's Constitutional Law course on religious freedom in the Spring of 2008. Second, through Professor Himsel I got to know Jane Ann Himsel. Jane Ann assisted me in developing the topic of the Article and then she served as a professional mentor, which included editing a first draft and providing very useful feedback. You will find in the biographical footnote of my Article my thanks to both Jane Ann for her specific feedback and my thanks to Wabash College for teaching me how to write (spreading the fame of her honored name)."
Wabash Visiting Assistant Professor of Political Science Scott Himsel was thrilled to see a former student honored with such an important award.
"Sean not only wrote well. But he focused upon a critical and timely public policy issue: how we accommodate Muslim dress in courthouse and courtroom settings," Himsel said. "I am not surprised that his article was recognized as one of the best law review articles in the nation. I think we will continue to see Sean accomplish great things as he launches his legal career."
Clerget offered a summary of his article. "The Article addresses a cultural and constitutional conflict that will become more prevalent in coming years as the Muslim population in the United States continues to grow." He said. "In Michigan, a Muslim woman took the stand wearing a full veil (known as a niqab) to testify in her own small claims case. The judge told her that she must take off her veil so that he can see her face in order to know if she is telling the truth. She responded by saying that her religion forbids her from taking off the veil in the presence of a man that is not her husband. The Judge then dismissed her case. The woman filed a civil rights case, but it was eventually dropped for unknown reasons."