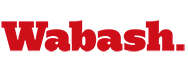 World Music Takes Center Stage at Wabash
by Steve Charles

April 7, 2012

With two concerts highlighting African, Spanish, and original compositions in flamenco and jazz traditions, last week was one to celebrate world music at Wabash.

Wednesday's Wamidan World Music Ensemble Concert brought the rhythmic energy of African folk music played on traditional instruments to the Salter Hall stage, and the Children's Ensemble continues to grow and bring smiles and cheers from the audience.

But it was John Murrell's passionate and entertaining Senior Recital on Friday—during which he played six different instruments with five different ensembles and music from African and Spanish traditions as well as his own compositions—that best highlighted the diversity of paths offered by the Wabash music department.

Department Chair Peter Hulen praised Murrell's performance, noting the senior's focus on ethnomusicology and work with Wabash ethnomusicologist Professor James Makubuya.

"It's wonderful to see him pursue and succeed on this path," Hulen said, adding that Murrell will begin an internship this summer with Smithsonian Folkways, the Smithsonian Institution's non-profit record label that is part of its Center for Folklife and Cultural Heritage.

On Wednesday, Wamidan and the Wamidan Children's Ensemble presented their spring concerts with a focus on African traditional songs and children's songs by Sister Stella Sabina, the director of the Children's Ensemble. Wamidan Artistic Director James Makubuya also a took a moment to honor two graduating seniors, Murrell and Kelvin Burzon, as well as language intern Maria Fraczek, for their contributions to the group.

A member of Wamidan for all four of his years at Wabash, Murrell wowed the Salter Hall audience with his instrumental versatility and musicianship during both performances, finishing his recital with two of his own compositions on jazz piano played with a piano/violin/drum trio and piano/sax/drum trio. The latter number brought the audience to its feet in appreciation.