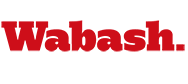 Track and Field Team Looks To Repeat
by Brandan Alford '12

March 1, 2012

The Wabash track and field team looks to defend its indoor conference title when the NCAC Championships take place this weekend at Johnson track in Knowling Fieldhouse on campus this Friday and Saturday.

After winning the indoor championship for the first time in school history in 2011, Wabash enters this weekend's meet as the frontrunner to win again, as the Little Giants were picked by the NCAC's coaches as the favorite. Wabash received eight out of nine first place votes for 80 points. Ohio Wesleyan, who is looking to reclaim the title they won in 2010, collected the last first-place vote and a total of 73 points to be picked second.

The Little Giants have had a successful indoor season leading up to the conference meet, setting several school records along the way. Wabash coach Clyde Morgan feels his team is ready for this weekend.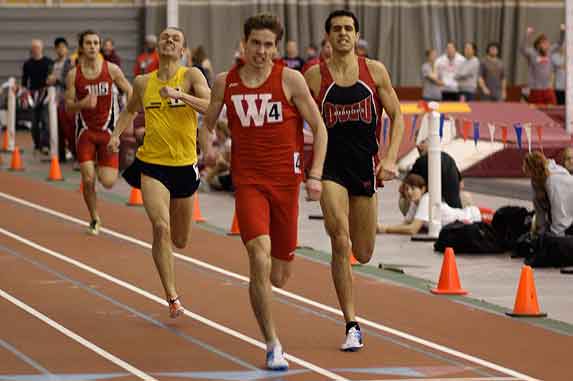 "They are ready to go," Morgan said. "I just need to keep them loose, because they put a lot of pressure on themselves. I think sometimes I worry about them too much, and I shouldn't. I just need to make sure they have fun and they need to make sure I have fun. We will be ready to go."

While the Little Giants certainly will make another run at a second consecutive indoor title, it won't be devoid of injury concerns. Several Little Giants are battling injuries that could prevent them from competing in some or all of their expected events. That's not reason for concern according to Morgan.

"You have injuries, but that is part of the game," Morgan said. "It sounds weird, but I think that as a coach, it is on you to get people ready. As a student-athlete if you see one of your buddies down, you have to have his back and we talk about that often.

"That's adversity. It's about getting through adversity, and we are prepared for this. Something is going to go bad, and you have to be ready for it."

In winning last year's title, Wabash got individual titles from Jake Waterman, Matt Knox, and Trevor Young a year ago, and the trio will look for repeat performances this weekend. However, it will be the depth that the Little Giants possess that might make the difference when a champion is decided.

"That is the difference between winning and not winning," assistant coach Roger Busch said. "Sometimes getting a fifth, sixth, and a seventh in an event is better than just getting a first place finisher. If you can add those points up, that's huge. It's what won the indoor meet for us last year. We didn't have a ton of individual champs, but we were scraping for points left and right."

Morgan noted that scoring those late points is a philosophy he and his coaching staff have preached to their team for the past two years, and it has resulted in a pair of conference titles, as Wabash won the outdoor title in 2011 to go with the indoor championship.

"We have a philosophy of 'get your point,'" Morgan said. "And we are talking about fifth, sixth, or seventh place. If that is your spot, you are battling it out and competing like it is the number one spot. If you are in the hunt for that last spot, it is just as important as the ten points for the first place spot. We talk about that a lot, and last year, we had guys coming off the track saying that they got their point.

"At a lot of places, they don't treat that as important, but when our guys are in the conference meet battling for fifths, sixths, and sevenths, it is a big deal. We had more sixths, sevenths, and eighths last year than anybody else; we didn't have as many champions, but we had that bottom end and our guys stepped up."

As the Little Giants pursue back-to-back indoor titles, Morgan believes his group has what it takes to again be at the top of the pack at the end of the weekend.

"It's great for their confidence for them to have those historical accomplishments," Morgan said. "Now they have the confidence that they can go out and do those things. That is something we don't have to talk about it all the time"

On Saturday, the Little Giants hope it's something they can talk about for another year.