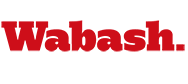 COE Gift Funds Engineering Scholarship
February 3, 2012

Jim Smith graduated with an engineering degree from Purdue University in 1950, and then began working toward an MBA at Indiana University. A year later he returned to Crawfordsville to work for his father at a local industry that specialized in bottle caps.

When his father passed away in 1955, Jim was elected President and CEO of the company. Technically, Smith felt competent to take over the job, however, he said, "I knew everything about the plant and how to make bottle caps but I lacked the skillset of managing people [that was not taught in his engineering coursework at Purdue]. I sought the help of a lot of professors at Wabash to get me through."

With a gift to the Challenge of Excellence, Smith and his wife have established The James and Susan Smith Family Scholarship to support students in the College's 3-2 dual degree engineering program with Purdue University. Smith recognized such a program would have been a good fit for him and he is convinced that a liberal arts education brings immeasurable value to the engineering table.
"The liberal arts gives students today an opportunity to confront the questions about what they really believe. It also gives them skillsets in writing, in thinking things through, and having an opportunity to debate those questions with other students and faculty.
"I didn't want to designate these funds for a project where the money would be used to repair somebody's roof. I've been thinking about this for a long time and trying to figure out what would make the most sense for my family. When I first heard about the 3-2 program, I thought it would be great – it's related to both my interest in Wabash and Purdue."
This scholarship is intended to honor the legacy of Smith, his wife Susan, their seven children (four of the six boys attended Wabash College), and the impact that Wabash has had on the Smiths.
Any student who enrolls in the program is eligible for this scholarship. The scholarship is renewable on an annual basis if the recipient student remains enrolled at Wabash and in the Wabash-Purdue engineering program.