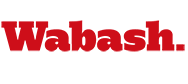 Work Ethic Key to Wabash Recruiting
by Howard W. Hewitt

December 8, 2011

A deep playoff run, NCAC Championship, third straight Bell victory, and one of the most dramatic comebacks in Wabash history arms Wabash Coach Erik Raeburn and his staff with plenty of good news to share with recruits.

While other schools have been hitting high schools, Raeburn's staff was busy with NCAA D3 playoff games.

"We're whining that we're so far behind in recruiting and how we're going to get all of our high school visits in," Raeburn said "We lost three weeks where we're normally out on the road. Ultimately, it's better for you to have success.

"Most of the coaches at other schools have been into high schools to see players and we haven't. I think they understand we've been busy and they're totally fine with that. Certainly, when we beat Witt to clinch NCAC title I was hearing from recruits. We played really good in the Bell game, I'm heard more. We win the playoff game, I got more. I got a million responses after that game against North Central. The high schools guys were like 'man, that's an unbelievable win' and that doesn't hurt you in recruiting, for sure."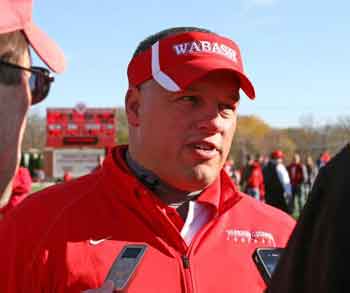 Raeburn's staff is always looking for bigger, stronger, and faster but there is one other quality that's more important than those three football standards.
"We're looking for guys who are hard workers," the coach said. "I just don't think there is any substitute for that. Obviously, we have very rigorous academic demands. You have to be a pretty hard working guy to be successful here period. But if you want to be successful in football here you have to have an unbelievable work ethic. I think that's first and foremost, we have to find a guy who isn't afraid of a little hard work and actually enjoys it. Those are the guys who don't pack it in when they're down 21-0 at halftime."
The other characteristic Raeburn wants is team oriented. "We want guys who want to win a championship. There are a lot of guys who want to be All-American, a lot of guys want to be the starter, there are guys who want to score a lot of touchdowns and guys who want to lead the conference in interceptions or something. We have to find guys who want to win a championship. Those guys, if they have that work ethic we mentioned, are the guys who make your program better.
"Obviously, most of them have those individual goals too and I hope they do. But first and foremost they have to want our team to win the championship."
Raeburn makes it clear in D3 recruiting you're never looking at just one position or one area for improvement. While defensive speed has improved over the last two years, a team can never have enough speed or depth.
"I think we have improved defensively the last couple of years because we have gotten faster," Raeburn said. "But we want to get faster at every position. When you play programs like Mount Union or North Central you learn pretty quick our depth has to improve. Late in the year we were very banged up in playoffs. But how can you not be banged up when you play 13 games? How can you not have guys hurt?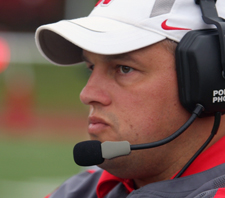 "For us to be able to knock a team off like the Mount Unions of the world, we have to improve our depth. Those schools they have better depth than we do. If so and so gets injured, it hurts them but they have another guy but there is a drop off even at those schools. Their drop off is smaller than ours at some positions."
Through the injuries, big wins, and deep playoff run, Raeburn said the 2011 season was one marked by resiliency.
"I guess the thing that will stick out to me is the whole Wabash Always Fights deal. There were a lot of moments during season, and it wasn't just the two-point conversion in the North Central game, where our guys showed some real resiliency or mental toughness. I'd say that would be the thing that I'll remember most about this season. No matter what happened during the season, our guys kept battling."
Raeburn used his experience as a player and coach at Mount Union to talk about his Little Giants' toughness. "I've been there and seen a lot of teams look beat when they get off the bus. And I've seen the ones that weren't beat when they got off the bus but when they fell behind or bad things happened early on that was usually enough to break them. Our guys didn't do that. We made too many mistakes to beat a good team but we didn't lie down. We kept playing hard the whole time."
So Raeburn and staff will hit the road looking for bigger, stronger and faster athletes who are near the top academically in their high school. He wants young men who want to play more than 10 games a season.
It all starts again for the Little Giants Sept. 8, 2012 at Hanover College. See full 2012 schedule here.