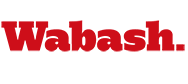 Bachelor: Burke's Playoff Comeback
by Brandan Alford '12, Bachelor Sports Editor

December 1, 2011

It wasn't possible two years ago.

It certainly wasn't believable two weeks ago.

But thanks to the right arm, and unbelievable guts, of senior Tyler Burke, Wabash's football team finds itself in the Elite Eight of the NCAA Division III Football Championships.

Burke has certainly taken the road less traveled during his four collegiate years. After a freshman year in which he played both football and baseball for the Little Giants, the Kalamazoo, Mich. native decided to transfer to Western Michigan in order to pursue a program with the Air Force.

"With my career path, I really saw myself going into the Air Force and being a fighter pilot," Burke said. "I thought that was my calling.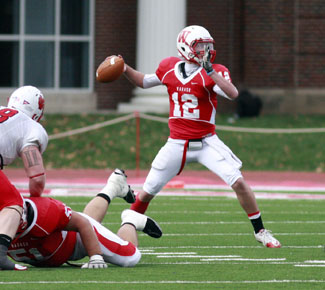 "My first thought was to go to Purdue and just drive there from Wabash every other day, but they didn't end up approving that, so I transferred to Western Michigan."
Once he was gone, though, he realized that the pull back to Wabash wasn't one he could entirely ignore.
"I came back to all the football games that season, and I really realized that this is the place for me," Burke said. "Honestly, it may not be the typical thing to do, but I was really happy to have the opportunity to do that and to find out that Wabash really is my home."
Head coach Erik Raeburn certainly noticed Burke's presence in the stands.
"It seemed like he was at every one of our games that fall," Raeburn said, "so I sort of knew he was having some second thoughts.
"We were certainly glad to have him back, and he has worked hard and been a great teammate."
In his first season back, Burke split time with Chase Belton for much of the year, making appearances in nine games, including Wabash's record-setting 47-0 victory over DePauw in the Monon Bell game.
He passed for 1,016 yards and nine touchdowns while rushing for 250 yards and three more scores.
However, this year, Burke only saw action in four regular-season games, attempting only six passes while rushing eight times.
It was a frustrating reality for a senior season.
"That was extremely tough," Burke said. "It was one of the hardest things I have ever had to go through in my life. It is what you learn here at Wabash, though; there are things bigger than you.
"To be on a team that is setting records, being a part of that team is still greater than anything I have done."
It would have been easy for Burke to take the season for granted, not prepare every week as if he were going to play, or quit altogether. But that is not what he did, and Raeburn is certainly grateful for that.
"It seems like there are so many selfish guys out there, that if they get beat out for a position, they hang it up," Raeburn said. "Tyler totally wasn't one of those guys, thankfully for us. He was unselfish enough, that despite his own personal disappointment, he hung in there for the other guys in the team and worked hard every day in practice.
"He did the preparation leading up to all of the games, knowing that he probably wasn't going to get in there. So when he finally does get a chance, against one of the nation's toughest defenses, he was ready."
When Belton was ruled out for the second-round matchup against North Central, Burke got the call at quarterback, his first start since Nov. 6 of last year against Wittenberg, a 34-17 loss.
The rust certainly showed in the first quarter as Burke opened the game with no completion in his first three attempts, including two interceptions.
"I knew after those first three passes that my reads were going to have to be quick and that I was going to have to get rid of the ball in a hurry," Burke said. "Those guys were quick and they knew how to break on the ball."
After three quarters, the Little Giants trailed 28-7, having only totaled 184 yards of total offense. Burke had only completed 10-23 passes for 112 yards and had one touchdown to go with two interceptions.
But what he did in the fourth quarter will be the only thing most anyone will remember.
After opening the quarter by fumbling on the first drive, Burke embarked on a comeback for the ages. After being physically punished for the game's entirety, Burke drove Wabash on three consecutive touchdown drives.
The third touchdown of the quarter, with 52 seconds remaining, brough Wabash to within 28-27. And with the season, and his college career on the line, Burke was given the opportunity to win the game with a two-point conversion.
"I wasn't quite sure how many snaps I had left in me, with the pain I was feeling," Burke said. "At that point, it's the playoffs, it's a big-time game, and in those situations you have to make big-time decisions, so I give credit to coach Raeburn for making that call and having faith in our offense."
That decision and faith paid off, as Brady Young hauled in a Burke pass, off a tip by James Kraus. It completed one of the greatest, most exciting comebacks in recent memory, giving Wabash a 29-28 victory and a berth in this week's quarterfinals.
And it was all made possible by a quarterback who, four weeks ago, was relegated to a sideline signal-caller.
"I think we are going to be telling the Tyler Burke story for quite some time around here," Raeburn said.
And what a great story it is.