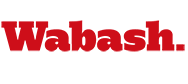 Little Giants Await Mount Union Challenge
by Howard W. Hewitt

December 1, 2011

Wabash's Little Giants head to Alliance, OH., Saturday and a matchup with D3 football's most dominant force – the Mount Union Purple Raiders. Celebrating the wild come-from-behind win over North Central is long past.

Wabash must figure out a way to deal with Union's top-rated defense and team speed. For many coaches it would be called a "measuring stick" game or a chance to see how you stack up against the neighborhood bully. Wabash Coach Erik Raeburn, a Mount Union graduate and former coach, want's none of that talk.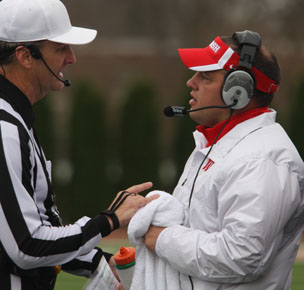 "I'm not into the measuring-stick approach," Raeburn said. "I want our guys to be proud of the fact that they are one of the final eight teams out of 239. They ought to feel pretty good about that. I don't want them going out there trying to measure themselves this week. I want them going out there trying to be one of the final four teams left.
"I'm not into moral victories. I want our guys to play their best and hopefully that will be good enough for us to get a victory. Win or lose, I'm going to be proud of this season and what our guys accomplished, but I certainly want to win the game just like any other week."
The No. 9, 12-0, Little Giants will be facing the No. 2 and 12-0 Purple Raiders. For anyone not aware, Mount Union is D3 football's most immovable object.
Mount Union:
Finished this fall undefeated for the sixth straight year; along the way it won its 20th straight Ohio Athletic Conference Championship.
Will be making its 23rd NCAA Tournament appearance with a record of 71-12
Has played in the D3 National Championship game 15 times and won 10 National Championships
Has compiled a 165-6 record since 2000.
Have won 58 straight games at home.
The records go on and on but any coach would say none of that helps on any given Saturday.
That top-rated defense is led by Gagliardi Trophy nominee Alex Ferrar, a senior safety, and defensive end Charles Dieuseul (in photo at left). But Raeburn is quick to point out the Purple Raiders are strong at every position.
"When you look at them, one of the reasons they have been so successful is that you will have a hard time finding any of their guys not playing at a high level," he said. "Mount Union has those superstar players and all the rest of the guys are pretty solid, too. It's hard for us to focus on any one player. It is going to take a complete effort with everyone playing their best for us to have any success moving the ball against the No. 1 defense in the country."
Raeburn has no doubt his team will be ready to play and have last week's exciting and emotional comeback win behind them.
"To win a game against a team like that with an opportunity to go to the Elite Eight, that's emotional enough. Being down 28-7, and then going for two to try to win it at the end, and then we have to go out and get a stop defensively, it was pretty emotional on our sideline. The entire fourth quarter our sideline felt like it was about to explode. After the game, I saw players with tears in their eyes, their parents were crying. It was an emotionally draining type of game.
"But we have to put it behind us and move onto the next game, but certainly after the season is over and for the rest of their lives when they get together, they will be able to tell stories about that game. I'm sure it will be special to them for as long as they live. It will certainly be special to me. It was an amazing feeling after that one was over, for sure."
It is no doubt going to be a special weekend for the fourth-year head coach. Not only is Raeburn a Mount Union graduate and former coach, but the Purple Raider's legendary coach Larry Kehres is Raeburn's uncle.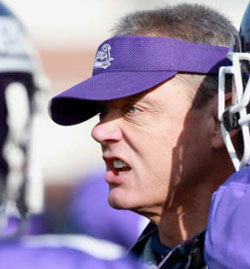 "It will be strange, I'm sure," Raeburn acknowledged. "I'm not sure what kind of emotions I will have, but once the game starts, it will be fine and we know it will be a difficult test. But we are thankful that we played well enough to have the opportunity to play against a program like theirs.
"Maybe when you are considered the underdog, it might take some pressure off of you. I hope that after the way our guys have played all season that they have confidence in themselves. They know we are going to have to play our best to have a chance. If we play our best, I think we can beat anybody."
Raeburn is counting on his defense to get the Purple Raiders' attention.
"Defensively, we have played great all year, but particularly in that second half last week, they played amazing. North Central had the ball, they were driving, they were in four-down territory, and really as much as North Central runs the football, I've never seen them fumble in the films I've seen. It was a great play by Cody Buresh and a heads up play by Kyle Najar to recover the ball. The overall effort of our defense was incredible, particularly in the second half. "
A similar effort this week is required. Raeburn added his offensive line has to open holes for the running game for Wabash to compete. "One of the things that has helped Mount Union create so many takeaways is that teams have not been able to run the ball and they have gotten great pressure on the other team's quarterback. That will be a key. Obviously we will have to pass the ball; we aren't going to be able to line up and run the football at them all game, but we need to do a better job of running the football than we did last week if we are going to have a chance."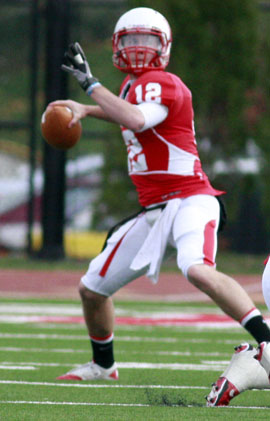 Tyler Burke has attained hero status among Little Giant fans after last week's off-the-bench, amazing performance.
"Obviously, we have faith in him. We played him a lot last year and when Chase didn't look 100 percent, we didn't hesitate to call his number. "The thing that is unbelievable is that if you had told me that he was going to get hit like that and still pass for 300 yards and four touchdowns, that's the unbelievable part to me. It's hard for any quarterback, I don't care if you are talking about Tom Brady and Peyton Manning, it's hard to be as effective and stand in there and complete those passes, no matter how talented you are. He was just under constant pressure. He just kept picking himself off the ground and making another big play."
Raeburn said Burke was back in practice Tuesday despite the hits he took against the Cardinals. He expects Burke to be ready to go. He noted starting quarterback Chase Belton was improving from his knee injury.
If Wabash is to keep it close and have a chance for the major upset, its two biggest stars have to lead the way. Fifth-year seniors receiver Wes Chamblee and linebacker C.J. Gum are impact players against any opponent.
"They are super-talented guys, they are hard-working," Raeburn said. "This is their last year, so going into the game, I knew they were going to play well, and they did. When you are as good as those guys, you come to almost expect games like that out of them. You don't take it for granted, but you aren't surprised when they happen. Those two guys have been so good for so long."
The Little Giants only other meeting with Mount Union was a 2002 playoff loss in the third round.