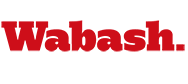 Little Giants to host No. 6 North Central
by Howard Hewitt

November 23, 2011

The NCAA D3 playoffs are into the second round with just 16 teams remaining. Wabash (No. 9, 11-0) will host North Central (No. 6, 10-1) for a noon kickoff Saturday at Hollett Little Giant Stadium.

It's the first meeting of the two Midwestern schools in the modern era. Wabash won the only two games played between the two schools in 1914 and 1915. Kickoff is set for noon. Admission is $8 for adults and $4 for students and children. No passes will be honored. Ticket gates will open at 10:30 a.m.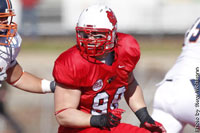 The Cardinals bring a powerful running attack and dominating defense to Crawfordsville. Little Giant Coach Erik Raeburn knows his team will have to play its best game of the season for any chance to win but that's what every team has to do in the playoffs.
"There are 239 teams that play D3 football and you whittle it down to 32," Raeburn said. "They're all going to be pretty good. You then cut that in half to 16. No matter who they pair you up against that team is going to have good players; they're going to be well coached; they're going to play hard all four quarters. We're going to have to play our absolute best to have a chance. Our guys understand that."
North Central plays in the tough College Conference of Illinois and Wisconsin (CCIW), long considered one of D3's top leagues. The Cardinals have won or shared the conference title for six straight years. Fans have been abuzz about a Little Giant matchup with NC. Raeburn doesn't buy into the fan hype about Saturday's contest as a litmus test or special hurdle.
"I've been pretty happy with all 11 wins," he said. "It's tough to win games each and every week. You have injuries, mistakes, penalties, turnovers, and weather that can derail you. North Central is an extremely good football team. It will be a good test for us but I think our guys will play hard and hopefully we make a couple more plays than they do."
The Cardinals are like the Little Giants in that it all starts with the defense. "They're excellent on defense and really solid at every position. Their defensive line is a bunch of seniors who are really talented and an experienced group. That has allowed them to play great against the run. They get great pressure on the quarterback with just their four-man rush so they don't have to do a lot of blitzing. They keep their guys back in coverage."
The North Central defense is led by lineman Peter Bulandr, a 6-4, 270 pounder, who this week was named as one of only two defensive players nominated for this year's Gagliardi Trophy. (In photo, above right.)
North Central scores 45 points a game to Wabash's 34. Both teams have been stingy on defense allowing about 11 points a game each.
The number that jumps off the stat sheet is North Central's 288-yard rushing average and 461 total offense average. The Cardinals average 7 yards per rush. They've allowed just 13 sacks of the quarterback. And the defense is good at getting the ball back for the offense intercepting 22 passes.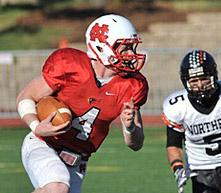 Nick Kukuc and Jordan Tassio (at left) lead the balance running effort with 1,121 and 824 yards respectively. Tassio will also take the snap and direct the offense from a Wildcat-like attack. Tyler Dicken has led the Cardinals in passing and connecting on 11 touchdowns. Brad Crackel has six more TD completions.
"Offensively, one of the things that jumps out at you is how well they run the football," Raeburn said. "They have a really good offensive line as is the case with anyone who can run the ball well. They have two excellent tight ends. Kyle Fiedorowicz looks like an NFL guy. He's an All-American, great blocker and a great receiver in their play-action passing game. He's the guy they kind of look for when they get their running game going. And they run some play action to him."
Fiedorowicz has 343 receiving yards and eight TD catches. Nine other receivers have a least 100 yards receiving.
The Little Giants are a somewhat dinged up as many teams are 11 games into the season, particularly along the line. The winner of Saturday's contest faces the winner of the Mount Union-Centre contest.