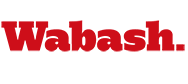 150 Students Visit During Top Ten Day
by Howard Hewitt

November 4, 2011

More than 150 high school seniors from Indiana and across the nation found their way to Wabash College Friday for Top 10 Scholarship Visit Day.

The visitation day introduces high school seniors to Wabash students, faculty and staff. But the visitors also hear and interact with alumni and sit in on a realistic classroom experience.

"We welcome you for what you have achieved," President Patrick White told the students and their parents. "We welcome you more for what you can become."

The students had to rank in the top ten percent of their high school class to earn an invitation. If they complete their application by pre-set deadlines, they are eligible for a Top Ten scholarship of $15,000 a year ($60,000 over four years) to Wabash. The top five percent will receive $17,500 annually.
The President welcomed the young men and assured them Wabash College would take them seriously. While young men falter academically across the nation, Wabash continues to educate young leaders, entrepreneurs, doctors and lawyers.
Students and their parents got the chance to hear from such Wabash graduates during two alumni panels. Students first heard from four Wabash graduates then parents got their turn to hear from a different foursome.
"I learned at Wabash that I wanted to go out into the world and be passionate about a lot of things," said Jeremy Robinson '04. Robinson is a school teacher in inner-city Chicago but earned a prestigious Rhodes Scholarship after spending two years in the Teach for America Program.
Robinson used his experience interviewing with the Rhodes Scholarship Committee to explain the power of Wabash. "I could never have gotten into Yale, Harvard or Princeton coming out of high school," he said. "There are a lot of people in this room who couldn't get into Yale or Harvard.
"But after graduation from Wabash, I knew I could compete with those people."
Kip Chase '03, Eli Lilly, took a more philosophical approach. "During your four years here you don't realize what you're planting here, what you're going to harvest," he told the students. "It's going to bear fruit for you."

Parents had plenty of questions for the four alumni sharing their Wabash experience. Jason Bridges '98, a New England entrepreneur, admitted he was scared to death his first two years at Wabash. Matt Piechocki '03, (in photo at left) also from Eli Lilly, talked about the liberal arts foundation for life. "A liberal art philosophy allows your son to do whatever it is they love," he told the Moms and Dads.
Students and their parents took tours, met with coaches, learned about immersion learning, and career services.
One of the unique aspects of the day was the opportunity to spend time in a Wabash classroom. The students attended class sessions led by Wabash professors in 12 different major areas.