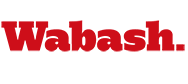 Red Pack Claims NCAC Cross Country Title
by Brent Harris

October 29, 2011

Wabash ended Allegheny's string of seven consecutive North Coast Athletic Conference Men's Cross Country Championships on Saturday. The Little Giants claimed their first NCAC title in the sport with four of their top-five runners earning All-NCAC honors.

The Little Giants scored a total of 52 points, edging out the six-time defending champion Gators with a total 65 points. Ohio Wesleyan was a close third with 67 points.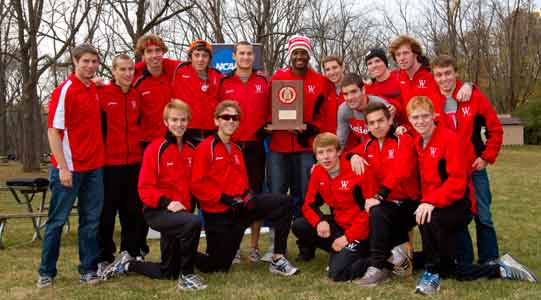 The cross country title is the first ever for the Little Giants in the sport since joining the NCAC for the 1999 fall season. Wabash has won an indoor and an outdoor track and field and baseball championships in 2011. The Little Giants have also won football championships in 2002, 2005, 2007 and 2008. Wabash shared the 2006 NCAC football title with Wittenberg.

Senior Kevin McCarthy was the top finisher for Wabash, crossing the finish line in 25:15.6 to take second place overall — his best time of the season. Denison's Dee Salukombo won the individual title with a time of 25:09.1.

Fellow senior Brian David turned in his best effort of the year, crossing the finish line in 25:31.8 to earn First Team All-NCAC honors for a fourth-place finish. Sophomore Dalton Boyer added a ninth-place finish with a time of 26:07.3.

Senior Kenny Farris was the number-four runner for the Little Giants, also earning All-NCAC honors with his 15th-place finish. Farris posted a time of 26:24.6, his best of the season. Freshman Billy McManus was the final scorer for Wabash, just missing a spot on the All-NCAC team with his 22nd-place finish. McManus took 26:46.8 to run the 8000-meter course.

"I'm really proud of our effort today," Head Coach Roger Busch '96 said. "Coach (Clyde) Morgan and I have been talking about this all week. I think some people may have written us off after they learned Donavan White --- one of our top guys --- was going to be out with an injury. But we had other guys step up. Dalton Boyer and Kenny Farris both ran well. We had the top-four freshmen in the conference meet.

"This is exciting for us. It was a really close team race. We spent a lot of time gearing up for this championship race. It was great to see the whole team perform like this and work together to win the title."

Nick Boyce finished 26th (26:56.8), while Jake Waterman was 27th (27:01.8). Daniel Hoover finished 29th (27.09.0). Sam Starbuck was 31st (27:16.6) and Jared Burris added a 32nd place finish (27:19.6).

Colin Dunlap finished 37th (27:24.4). Jacob Ponton took 44th place (27:29.5).