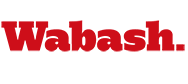 Wabash Wednesday Features Immersions
October 11, 2011

The second in our continuing series of video conversations, Wabash Wednesday, will cover immersion learning. The moderated conversations allow alumni and friends to learn about College programs, faculty, and staff.

Wabash Magazine Editor Steve Charles will talk with Professor of History Rick Warner at 12:15, Wednesday, Oct 12. Warner has been a driving force behind Immersion Learning, and with Professor Bill Cook took students to Kenya last summer as part of a course on the history of Christianity in Africa. Warner has taken students all over the world and will talk about the powerful learning opportunities immersion trips provide.
Our next Wabash Wednesday:

Wednesday, November 2, 2011. Dr. Kay Widdows, who holds the John H. Schroeder Interdisciplinary Chair in Economics, will discuss Wabash's new Asian Studies program and how a $700,000 grant from The Andrew W. Mellon Foundation will support opportunities for students and faculty.