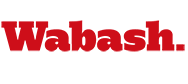 Vic Powell: Legend Dies at 91
by Jim Amidon

October 6, 2011

Victor M. Powell — November 25, 1919 — October 6, 2011

George Victor Campbell Morgan Powell, "Vic," a member of the Wabash College community for nearly 65 years, passed away peacefully in his home on Wednesday. He was 91 years old.

A memorial service will be held at 2 p.m. on Sunday, October 16 in the Pioneer Chapel on the campus of Wabash College with a reception to follow. Memorial contributions may be made to the Victor and Marion Powell Scholarship Fund at Wabash College.

Powell served Wabash College in virtually every possible way — Professor of Speech, Department Chair, Secretary of the Faculty, Dean of the College, Executive Vice President, and Acting President.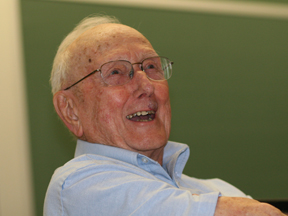 He spoke frequently about his arrival at Wabash as an assistant professor in 1947 and his plans to stay for no more than two years before moving on. He and his wife, Marion, made Wabash and Crawfordsville their home from that point forward, and he served the College continuously until his retirement in 1989. Powell is survived by his wife and two daughters, Carol Lombardi and Karen McCarthy.
"Whatever his role, Vic was always the greatest and most generous of teachers, a man whose love of the College poured out in his affection for his students and his commitment to their promise, a promise that he awoke through every class and every conversation by his kindness, his rigor of thought and language, and his sheer delight in their learning," said Wabash President Patrick White. "He was one of the greatest of teachers at Wabash, and a consummate teacher of teachers. Anyone who ever had a conversation with Vic learned from him and we all were fortunate to be his students."
Born November 25, 1919 in Fargo, North Dakota, Powell received his bachelor's degree in political science from the University of Minnesota. He served in the United States Air Force during World War II. In 1946, he earned his master's degree and later his Ph.D. from the University of Missouri.
He received the McLain-McTurnan Excellence in Teaching Award at Wabash in 1974. A year later, the National Association of Wabash Men named Powell an Honorary Alumnus and he was awarded an honorary degree, Doctor of Humane Letters, in 1981.
He was a life-long fan of the St. Louis Cardinals and a regular presence at the faculty round table in the Scarlet Inn, the campus diner.
Powell sat down for an interview just weeks before he turned 90, and told Wabash Magazine editor Steve Charles the secrets to good living: "I was born with a near insatiable appetite for fruits and vegetables," Powell said. "I never can eat enough of them. I don't care if I eat meat or not. And I like to walk."
"Sometimes I get up feeling lethargic—and I do, often enough. But by the time I've walked down to the school, picked up the New York Times, and am sitting at the Scarlet Inn with my colleagues around, I'm restored." Read the whole interview here.
Powell was an active public servant in Crawfordsville, modeling for his students a life of civic engagement. He served on the Crawfordsville City Council and Crawfordsville School Board; presided over the Parks and Recreation Board; served on the Crawfordsville Board of Police Commissioners; and was a long-serving member of the Christian Nursing Service Board and the Montgomery County Comprehensive Health Planning Council, to name only a few of the agencies he served.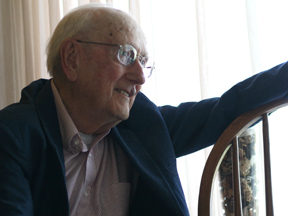 At Wabash College, Powell was a powerful campus voice, and he taught generations of students to find their own voices and to communicate with precision and clarity.
Powell taught at Dartmouth in 1946 before he was recruited to Wabash by then-Dean Byron K. Trippet. At the time, Wabash's speech department was headed by a legendary figure in the field — William Norwood Brigance — and Powell thought working with him would help launch his career.
Powell's career took off and Wabash's speech department received national acclaim. But something happened along the way — Powell got hooked on Wabash.
"I came here specifically to stay for two years, but I fell in love with the place and then they would have had to throw me out," Powell told Wabash Magazine in 1990 after serving as Acting President. "The essential things that I really like about Wabash are still as they were when I came here. There is not great separation of administration and faculty, and a student wouldn't hesitate to come in to see the president. A general mode of informality has persisted."
Following Brigance's death in 1960, Powell became a full professor and chair of the department. He continued in that role until 1973, when President Thad Seymour asked him to succeed Richard Traina as Dean of the College. He served as Dean until he returned to the classroom in 1981. In 1986, he stepped into the role of Executive Vice President to assist President Lewis S. Salter, and in 1989 he served as Acting President of the College.
Powell was a lifetime member of the Methodist Church. He received the Rotary Club's Paul Harris Fellowship Award for his service to the Crawfordsville community. The Montgomery County Community Foundation honored him for more than five decades of service, and the Christian Nursing Service awarded him its Golden Apple Award for his work at the CNS clinics, Meals on Wheels program, and the FISH clothing closet and food pantry.
Outside of Wabash's formal classroom setting, Powell was an active teacher. He helped develop and teach in the Wabash Institute for Personal Development; taught classes to employees at R.R. Donnelley; served as a consultant for Eli Lilly and Company's sales training program; lectured for Indiana University's summer programs; and chaired the Great Lakes Colleges Association Deans Council.
At the occasion of his 90th birthday, the National Association of Wabash Men paid tribute to Powell, saying in part, "Let this resolution demonstrate the gratitude all Wabash men — and particularly this Board — for his lifetime contributions to the College and for his personal friendship to generations of Little Giants."
Victor M. Powell — Some Little Giant!
Please contribute your own comments and memories