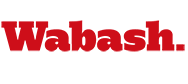 Wabash Sweeps 49th Hokum Karem
by Jim Amidon

September 3, 2011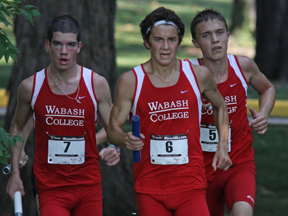 The 14th ranked Wabash College cross country team cruised the team championship at the 49th Annual Wabash Hokum Karem. The Little Giants claimed the top four places to record a perfect score of six in the six-team field.
Coach Roger Busch, mourning the loss of his father earlier in the week, teamed his top three senior runners with freshmen (pictured right), and the result was a 1-2-3 finish for Wabash.
Senior Donavan White teamed up with rookie Shane Hoerbert to win the six-mile relay race, which features pairs of runners alternating one-mile loops through the Wabash campus.
Senior three-time All-American Kevin McCarthy was a second behind, and teamed up with freshman Nick Boyce to claim second place for the Little Giants.
Senior Brian David ran with freshman Billy McManus and finished third in the race.
Wabash also captured fourth place with the tandem of freshman Jacob Caddick and sophomore Dalton Boyer.
The Little Giants finished first with six points, followed by the University of Indianapolis (21), Huntington (30), Anderson (33), DePauw (37), and Rose-Hulman (44).
For complete results, see Wabash's athletics website.