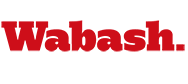 In the Nexus
by Kim Johnson

August 29, 2011

Wabash Men Living and Working in Asia

WM asked six alumni whose careers have taken them to Asia to offer their perspectives on working there. Some excerpts:
---
Chris Ings '96
Finance, Procter & Gamble
Guangzhou, China, since August 2010
[Hometown] Indianapolis, IN
[major] Economics
Chris Ings moved his family to Guangzhou last August.
"Raising a family in China is an interesting experience," he says. "The opportunities to travel both within China and to other parts of Asia are amazing—truly something we could never have imagined.
"The pace of change in China is so rapid. Strategies always need to be reworked to ensure they capture this change. Another key difference is the fragmentation of the market. When I was in the U.S., if you made your top 15 customers happy, you had taken care of 80 percent of your business. In China, if you do well with your top 15 customers, you have taken care of 35 percent of the business.
"It's most interesting to watch a country grow economically at such a fast pace as it tries to balance that with traditions and cultures that have been around for generations. There are times that it feels like a place that is very conflicted."
---
Seth Ditchcreek '04
English Teacher, Language Center Manager, Shanghai;
Japan 2004-2004; China 2006—present
[Hometown] Valparaiso, IN
[major] Economics
"At Wabash I took Professor [David] Blix's classes on Asian religions and another on Taoism," Seth Ditchcreek recalls. "That began my underlying interest in China.
"One cultural difference I find striking is that most Chinese I know have no idea what is happening in the outside world, let alone another part of China. They tend to only care about what is happening in their lives and how things will directly impact them.
"I have tried to talk with my students about current events or other cultures, but this doesn't go well.
People here are too focused on their lives and their families to really care what the government is doing, and many people say they can't change things, so why try."
---
Michael Kelley '70
Metals trader and consultant
Traveling throughout East Asia since 1968
[Hometown] Gary, IN
[major] History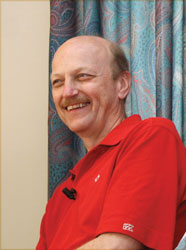 Mike Kelley took Chinese at Wabash in the late 60s and between his junior and senior years spent a few months in Taiwan studying Chinese at the Taipei Language Institute. He took Japanese in graduate school after serving in the Navy and spent a semester in Japan earning his master's in international management. He then lived in Tokyo for three years, starting up and running a subsidiary of a large U.S. corporation.
"I traveled Asia extensively during these years, but China was still only a barely awake giant, with very few business oppor-tunities," Kelley recalls. "When I first went to Taiwan, I was a 20-year-old kid from Gary, IN—a white kid from a predominantly black high school—who had never even seen an ocean before, much less flown across the Pacific. I had almost no preconceived notions, which was good—I just absorbed and assimilated. And I already knew how to be a minority, another unanticipated advantage."
Now traveling to China a few times a year for business, Kelley knows building good relationships is critical to success in China.
"There is no established rule of law, no UCC for business to be based on. It is not a place for Boy Scouts—the rule of the jungle can prevail. What rules there are continue to change as the government makes it up as they go along. Your business partner can walk away from a contract without a worry of any legal consequence. This puts the emphasis on personal relationship building—using your experience and your gut to judge who you can trust, and who should be avoided.
"There are good people to do business with, but you always need to keep your antennae twitching for what might be changing in the environment around you."
---
Kai Chin '71
Banking and finance for the past 30 years in South Korea,
Taiwan, Indonesia, Hong Kong, Singapore, Philippines, and China

[Hometown] Tai Shan, China
[major] History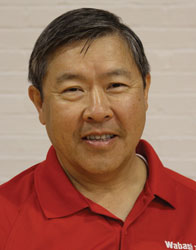 Kai Chin was born in China and lived with his mother and grandparents there until he was five years old, when he and his mother rejoined his father in the U.S. He grew up on the lower eastside of New York City.
After 30 years working throughout East Asia, Chin believes that language barriers are among the easiest blocks to overcome. Non-verbal communication can be more difficult to navigate.
"You can't really use a broad brush across Asia as a whole. Each country has
its own unique culture and behavior. For example, in Indonesia you don't raise your voice and you don't speak to people directly. If you are unhappy with what's going on, you find someone who has a relationship with that person, and he relays the message."
The method is not necessarily efficient or reliable, "but it allows the person to save face. Face-saving is very important in Asia.
"Everything is an effort to work in a form of harmony."
Chin believes sincerity is the best way to overcome any language and cultural barriers one encounters.
"Others can read your sincerity and tone of voice, facial expression, your patience in getting your point across.
Civility toward one another—a willingness to make an extra effort to communicate —is the common language. Everything is based on relationships."
---
Peter Kennedy '68
Established Corporate Banking Office for Bank of America in Hong Kong 1980-82,
currently president of Eighteen Seventy Corp.

[Hometown] Boston, MA
[major] History
Peter Kennedy's first interest in China was the result of a geopolitics class at Wabash taught by Dr. George Lipsky.
"The course was fascinating. Dr. Lipsky was a brilliant man," Kennedy says, "Students loved him."
A decade later, working at Bank of America in New York, he was asked to start a new office in Hong Kong. He spent almost three years living there and now returns to Hong Kong and China for business a few times each year.
"At that time the important Hong Kong Chinese were disciples of Confucius. That is they were polite yet they were careful about giving away information. It took many polite meetings to gain a level of trust where important information could be shared.
"When dealing with the Chinese it is easier to learn with one's mouth closed. Americans like to talk about themselves, whereas the Chinese rarely talk about themselves. So you have to learn to be quiet. You have to learn to tolerate periods of silence in a businessmeeting and not be edgy, because silence might persist."
---
Khurram Tahir '01
Director, Greater China Strategy and Business Development, Motorola
In China from 2008-2010

[Hometown] Lahore, Pakistan
[major] Political Science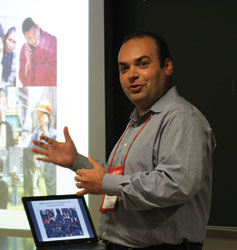 "While I was working for Motorola in Libertyville, my boss approached me about a potential position in China," Khurram Tahir recalls. "I had a great one-hour conversation with our president in China, after which he basically said, 'If we need you to move in a month, can you do it?' I said 'yes.' A month later I was there.
"China is the nexus of so many of things going on today from a socioeconomic
and business perspective that any chance to live and experience that while getting paid is very hard to resist."
Tahir learned early the importance of personal interaction.
"I spent a lot of time upfront building relationships with our leadership team in China. It paid dividends throughout my stay there when it came down to trying to get things done.
"Understanding the cultural norms is critical to your business success. For example, executives in China try to not activelydisagree in meetings. You could be in a meeting where everyone is nodding their heads, but that does not mean they agree with you. You leave the meeting thinking that everyone is going to go do certain things that were agreed upon. Then you find out that wasn't the case —that they were never done. Getting people to verbally commit to doing things is very important."