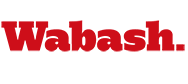 Mall-a-Palooza Introduces Wabash Clubs
by John Dykstra '13

August 27, 2011

The sound of music and a parade of students and clubs gave life to the Mall Friday evening as Senior Council hosted its first event of the year, Mall-a-palooza.

Unlike previous years, clubs did not set up booths during Freshmen Saturday. President of the Student Body Steven Henke thought Mall-a-Palooza was more appealing to freshmen since freshmen had over a week to become acquainted with the College.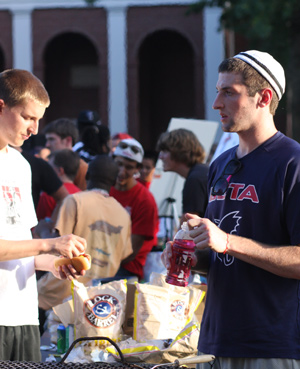 "This timing is definitely better than Freshman Saturday," he said. "Freshmen have been around on campus for a little while to get acclimated, but not enough to get extremely bogged down in commitments. Nothing much happens this weekend historically, so this gave it something all new and fresh. By having all clubs present at once, everybody gets a chance to sell their idea before budgeting and simultaneously make contact with a wide variety of students."
President Patrick White also said the event was better timed than Freshmen Saturday for clubs to advertise themselves.
"There are a lot of sophomores and upperclassmen out here," White said, while partaking in a round of hacky sack with students. "I think we should do it every year because it is original and interesting. Freshmen Saturday is almost too soon to display clubs. This is a nice time. Everyone is here having fun. Members of the community are here as well."
The event was inspired by Dean of Students Secretary Sherry Ross. She came up with the name. Henke said Senior Council's flexibility enabled the event to take place and that the event was planned on short notice.
"I think the event went very well," Henke said. "Both LaToshia Everson and Dr. Rocha's bands delivered some truly phenomenal music, clubs got a huge amount of publicity, and plenty of food was consumed. Many thanks to Campus Services, Jerry Bowie, Betsy Knott, and Showtyme Sound for their above and beyond performances behind the scenes as well- not many people know, but last minute sound equipment availability issues meant we ran everything off of a repurposed welder. Their collective inventiveness proved indispensable.
"I think the most impressive part of the event for me was at the end of the show. Most of the guys had filtered back to their places for the night, so it was just a handful of men, the band, and sound guys talking around half-disassembled equipment. The sound crew specifically said, 'Whatever you did to get this clean-up crew, you did one hell of a job."