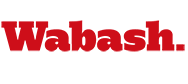 This is Where You Should Teach
August 24, 2011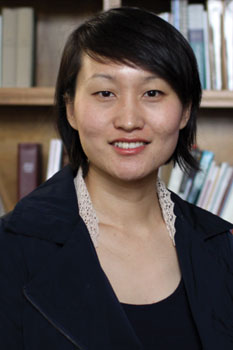 Qian Zhu Pullen gave birth to her first child only three weeks before her interview for the College's new Asian Studies position. In fact, Waylyn Pullen, born more than a month premature, was still in the hospital with his father, Randolph, overseeing his care, when the teacher of modern Chinese history and Mandarin first set foot on the Wabash campus in January.
At her side was her father, a member of the Chinese Navy special forces for 30 years, who had raised his daughter to believe "that there is nothing a man can do that you can't.
"He trained me in the military way since I was five years old," Pullen told WM during a return visit last spring. "In fact, he pushed me to do the job interview. He said, 'You need to go because you are my daughter. You have to be tough.'
"I said, 'OK. I will go,' even though it was difficult to leave Waylyn, even for a day. My dad came here with me. And the first sign he saw was the one that says 'Wabash Always Fights.' He knows zero English, so he asked me, 'What's that?' I translated it to him. He said, 'This is the place you should teach.'"
Pullen laughed as she finished the story, yet acknowledged the College's "always fights" attitude has great appeal to her.
"I was raised not to believe that women are weak or can't do certain things. You can do whatever you want to do. That's part of my family education from my dad, and I think this is part of the Wabash spirit."
That spirit and her father's influence infuse her pedagogical approach.
"When I was seven years old to the time I was ten, my father would ask me to read Confucian classics and write a short review. Then we would debate what I had read. From those debates I began to think critically, to be conscious of the fact that everyone thinks differently, that we can all read the same book yet come up with different conclusions. I teach my students to understand and explore that, too."
Pullen will teach both Mandarin and her academic specialty, modern Chinese history. The College's Chinese students are among those most eager to register for the latter.
"This will be something very different from the history class they took in China. It will be as eye-opening for them—perhaps even more so—as it will be for American students," Pullen said.
"I've talked with several of the Chinese students interested in taking Asian and Chinese history this fall and have come to realize through those conversations that many had learned their history from TV dramas! When I told one student that TV drama is not history, he said, 'Really?!' So that will be my starting point."
Pullen acknowledged the difficulty of learning the Chinese language, but seems undaunted. Walking out of Rogge Lounge after our conversation, she encountered a Wabash student who had taken Chinese the previous semester from Professor Pullen's predecessor, Professor Ssu-Yu Chou.
"It's the toughest class I've ever taken—I think it may have been a mistake," the student admitted.
Pullen shook her head. "Don't give up," she said, wishing the student luck on his final exam. She understands students may doubt their ability to learn the language.
"But I'm going to stimulate their interest, because the best way to learn a language is to use it to communicate things that interest you. And they will find out quickly that they can, in fact, learn to write in Chinese. They can learn to understand more than they think, and not understanding everything doesn't have to get in the way of their learning to communicate."
She returned to the lessons of her father.
"When I was writing those reports about Confucian classics for my father, I'd often encounter words I couldn't write—whose characters I did not yet know. For those, I'd just draw a circle, and then I'd tell my father what I was trying to say, and he'd teach me how to write those characters.
"I'm going to teach my students in language class that way, too. If you cannot write that Chinese character, just draw a circle and tell me what you're trying to express, and I will tell you how to write that. They will learn to speak and write what they want to say, and when they can finally fill in those characters in their journals, they'll have the satisfaction of writing not in broken Chinese, but complete Chinese. They will realize that if they try, there is nothing they cannot do."
As the Asian history and Chinese language expert on the faculty, Pullen welcomes the opportunity to work with fellow professors as the Asian studies program evolves.
"I look forward to helping them see how Asia might connect with their own research and teaching, because the vision of this program is not just to focus on language and history, but to bring different disciplines into the program as faculty and students are interested.
"We are taking a liberal arts approach to Asian studies, and I want to help my colleagues understand how it is possible, how exciting it could be to incorporate some aspect of Asian studies into their own work."