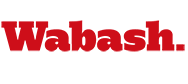 Officials Declare Mud Hollow Ready for Play
by Jim Amidon

August 19, 2011

Wabash College officials declared Mud Hollow Stadium "ready for play" Friday afternoon. The new home of the Wabash College soccer team is the final project in Wabash's $6 million outdoor athletics facilities campaign.

The soccer team will play on a new FieldTurf Duraspine Pro surface, which was installed over the summer. The entire surface of Mud Hollow was lowered and graded before construction began on the field and grandstand.

The stadium will seat close to 200 spectators in seats used in professional baseball parks. The new facility includes restrooms, scoreboard, pressbox, and "clamshell" benches for the teams.

On the east end of Mud Hollow Stadium is a newly sodded and graded grass field recreation space that's larger than a football field in size. Wabash students will use it for Ultimate competitions, as well as intramural sports. The throwers on Wabash's track team will also practice and compete in the area.

Mud Hollow Stadium will be dedicated during ceremonies on Saturday, September 3 when the Little Giant soccer team hosts Trine University in a 2:00 p.m. match as part of the Robbie Dreher Memorial Soccer classic.