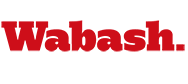 President to Ring In Big Class of 2015
by Howard Hewitt

August 18, 2011

Wabash College will welcome one of its biggest freshman classes in recent years Saturday. Freshman Saturday is a Wabash tradition culminating in the "ringing in" ceremony conducted by President Patrick White.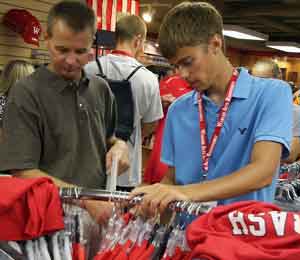 The Class of 2015 could exceed 290 students, according to admissions officials. Enrollment has been right at 250 the past two years and a big class this year would bring Wabash up to its usual student numbers. Those big numbers have required extra planning.
The ringing in ceremony will be available on the College website through steaming video. The video will also be streaming live in Baxter Hall, Room 101, for any over-flow crowd.
"As the economy and the College's financial position showed signs of improvement, the President assigned a higher priority to address the strategic plan goal of stabilizing enrollment between 900-925," Dean of Admissions Steve Klein said. "To make progress toward that goal, he asked admissions in January to adjust our operation to enroll up to 270 new students. To do so, we admitted 45 additional students, assuming 15 more students (give or take) would deposit and enroll. This also assumed that 29 percent of all admitted students (same as last year) would deposit and enroll. Right now that yield is 32.5 percent and is likely to come in at 32 percent."
In other words, Admissions admitted more students and more of them seem to be planning on showing up.
It's likely to be a day they will never forget. Students arrive early Saturday morning for registration and move into their new living quarters. A parents and guest reception runs most of the morning at the Malcolm X Institute.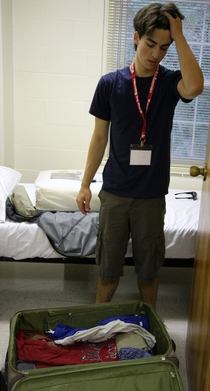 The Lilly Library and Bookstore will be open 10 a.m.- 3 p.m. Following lunch in the Allen Center, the official welcome and ceremony begins at 1 p.m. in the Pioneer Chapel. Later that afternoon parents will leave campus and the men of the Class of 2015 begin their orientation schedule which runs through Wednesday.
The class promises to be a big one regardless of the exact number but it's also difficult to put a finger on exactly why this class had fewer decide to go elsewhere.
Dean Klein points to a number of factors that could have played a role. He listed: adjustments in merit scholarship structure; improved athletic facilities; an exceptional year for sports teams; his great recruiting staff; better communication regarding value of a Wabash education; the service of the financial aid staff; and all the assistance of students, faculty, and staff along with Wabash alumni from around the world.
Not all of those freshmen are showing up Saturday because some are already here. Many freshmen fall athletes arrived last Sunday or Monday to begin fall sports practices. And, 12 members of the new class spent the week in Montana and jump starting their Wabash careers in a special class pairing the liberal arts with fly fishing.
The first day of class for all students is Thursday.