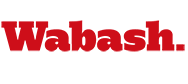 Hadley Repeating Fly Fishing Tutorial
by Howard Hewitt

August 13, 2011

Political Science Professor David Hadley long had a dream of a fly fishing immersion trip. That dream came true in 2009 as a Freshman Tutorial Class. He's taking another group of freshmen back to Montana this week to repeat the experience.

See photos from Saturday's casting lesson here and here.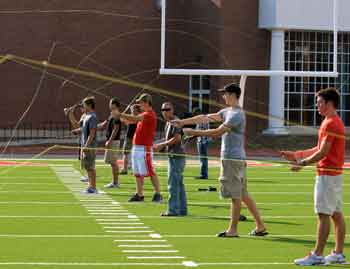 A dozen members of the Class of 2015 were quick to sign up when tutorial registration opened this summer to become the second group to study biology, ecology, literature and to go fly fishing and white water rafting with Wabash alums.
"There is good literature, writing, the science associated with fly fishing, stream ecology, bug life/bug cycles, fish, politics, and the economy," Hadley said of the unlikely pairing when introducing the course two years ago.
The class was a huge success by most observers and all participants.
"It worked so well the first time," Hadley said Saturday evening while students were practicing casting. "I just couldn't imagine it going any better."
The trip to Bozeman, Montana features Wabash professors Hadley, Biology Professor Emeritus David Krohne, and Professor of Art Doug Calisch. Calisch is along on the trip because he will become this group's academic advisor.
But the trip also has a strong alumni component. Jeff Perkins '89 will again accompany the group and has helped make the trip possible. Geoff Faerber '98 owns Flying Pig White Water Rafting and will take the group on a rafting experience. Faerber has frequently hired Wabash students as summer rafting guides.
Brian Grossenbacher '90 is a fly fishing guide, outfitter and nationally-acclaimed wildlife photographer. He will assist Monday and Wednesday when the students actually go fishing.
"The students will do a lot of float fishing from a boat," Hadley explained. "But I want to be sure we get these guys into the water so they're doing some wade fishing. It's a completely different experience to be in the water and be able to see and focus and concentrate on what the water is doing and where fish might be holding. The students are learning more about reading the water."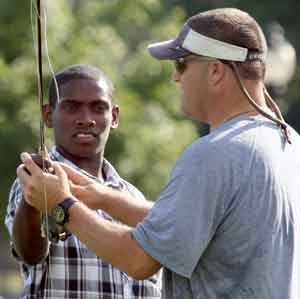 The students were required to read Norman Maclean's A River Runs Through It before arriving on campus for the trip.
For the dozen freshmen it's a lifetime memory they're unlikely to forget.
"I first saw it when I was looking at the web on the Freshman checklist," said James Borchert, a freshman from Shelbyville, IN. "Fly fishing as a class just sounded awesome. It will be a week in a beautiful area and I've always heard Bozeman is a beautiful place."
A similar group of freshmen had the same expectations fulfilled in 2009.
"Our tutorial was unique in that it provided an opportunity for the 12 of us to experience Wabash before actually reaching the physical campus," Wyatt Lewis '13 said. Lewis was reflecting on the trip near the end of the tutorial and his first semester at Wabash. "I believe the 12 of us were the well-adjusted freshmen on campus; there was a level of comfort with each other that was apparent in everyone's willingness to participate in class discussion."
The group left very early Sunday morning for Montana. They will fish Monday and Wednesday. "On Tuesday we tour Yellowstone Park guided by David Krohne," Hadley said. "And part of that is looking and seeing Yellowstone through his eyes as a biologist and ecologist. He'll get the students into the water to look at aquatic life."
The students, and hopefully professors and alums, will be blogging about their experiences throughout the week.
The freshmen on the trip are: Andrew Baker, Elkhart; James Borchert, Shelbyville; Alex Clauser, Crawfordsville; Hezekiah Eibert, Camp Lejeune, NC.; Nick Gray, Philadelphia, PA.; Tyler Hampton, Brownsburg; Trent Koch, Muncie; Jesse Martin, Crawfordsville; Patrick Rezek, Indianapolis; Ryne Ruddock, Terre Haute; Kyle Schwab, Cambridge City; Matt Stewart, Evansville.
In Photos: Top right, the students get the hang of fly fishing. Lower left, instructor Scott Gobel helps Nick Gray, Philadelphia, with his fly casting skills.