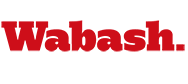 2011 OLAB Program Off To Fast Start
July 11, 2011

The 39th Annual Opportunities to Learn About Business Program is underway on the campus of Wabash College. Founded in 1973, OLAB is a week-long summer business immersion for high school seniors.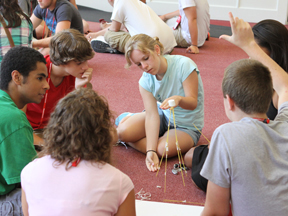 This year, 53 students from seven states and two foreign countries have come to Wabash. Since OLAB's founding, more than 2,400 students have participated in the program.
While on campus, students will attend lectures and participate in workshops and a series of games and competitions to reinforce the concepts they learn in the classroom. Over the course of the week, they'll learn about finance, accounting, production, marketing, advertising, public speaking, the stock market, and they'll even negotiate a labor contract.
"The students arrived early Sunday and have been hard at work ever since," said program director Jim Amidon. "We have a student from France and students from both coasts — California and Connecticut. Every year it's amazing to me how quickly the students get to know one another. By mid-week, they've become good friends and are working on teams in a complicated computer game that simulates all aspects of running a large business."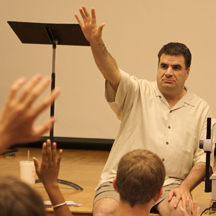 The faculty for this year's program includes Rhetoric Professor Todd McDorman, Economics Professor Humberto Barreto, Game-master Greg Shaheen, Amidon, and attorney Davey Neal, who is chief of staff for the Indiana Alcohol and Tobacco Commission.
In addition, students will also attend workshops led by Chris Cotterill, Chief of Staff for Indianapolis Mayor Greg Ballard, and Joan Scott, who manages Nike's corporate relationships with colleges and universities.
Attorneys Jon Pactor, Greg Estelle, Brad Johnson, Rick Cavanaugh, Scott Benedict, Tim Craft, and Rick Dennerline will serve as volunteer labor negotiators this year.
After orientation on Sunday, Professor McDorman led students through a group decision making workshop, after which teams of students were challenged to work together to construct free-standing towers using only spaghetti and tape. The exercise promoted brainstorming, sharing ideas, and working toward a common goal.
Later in the week, the students will form teams and will make dozens of business decisions in short periods of time, which tests their accounting skills and challenges them to work together.
"From the very first workshop through the business simulation and right up until they've created their advertising campaigns and taped television commercials, every aspect of OLAB works brilliantly to help the students understand the concepts in theory and in practice," said Amidon. "The people who created this program so many years ago literally thought of everything; lectures, workshops, and activities come together for a rock-solid pedagogical approach."
Shaheen, the Interim Executive Vice President of the NCAA, returned Sunday for his 26th year with the program. He and Barreto tag-teamed on Sunday and Monday, giving lectures, presenting workshops, and leading students through games designed to test their knowledge.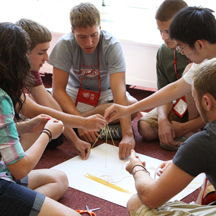 Meanwhile, McDorman taught students effective public speaking. Throughout the week, Labbies will be giving introductory speeches and marketing presentations, and developing stockholder reports.

The OLAB program is generously sponsored by the Goodrich Trust, D.J. Angus-Scientech Educational Foundation, the Eugene and Marilyn Glick Family Foundation, the Rotary Club of Carmel, the Crawfordsville Kiwanis Club, Nucor Steel, and the Indiana Sports Corp.

"Students who attend OLAB come from all over the country and from every imaginable socio-economic background. Sponsors provide full-tuition scholarships for every student, and we are grateful for their long-standing support," added Amidon.




For more information see: