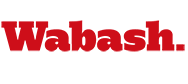 NAWM Elects New Officers, Members
by Jim Amidon

June 22, 2011

The National Association of Wabash Men has new leadership after balloting by the College's alumni body.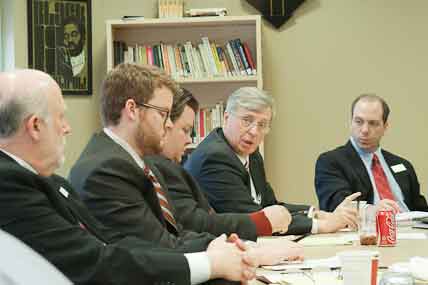 Greg Castanias '87 is the new president of the NAWM and will guide the Board of Directors for a two-year term. Greg Estell '85 was elected vice president and Greg Redding '88 was elected to serve as the Board's recorder.
The NAWM includes all alumni of the College, tenured members of the Wabash faculty and emeritus faculty, members of the Board of Trustees and emeritus trustees, and any other persons who have rendered service to the College and been accepted for membership by the Board of Directors of the NAWM. Each year, the NAWM elects five persons to serve three-year terms.
Board members re-elected for second terms include incumbents Scott Smalstig '88 and Kenyatta Brame '92. Rick Cavanaugh '76 was elected to his first term, while the Board appointed Pat East '00 and Art Howe '82 to serve three-year terms.
Professor Dan Rogers, chairman of the department of modern languages, was selected to replace Redding as the faculty representative to the Board.
"This is an exciting time for the alumni Board," said Alumni Director Tom Runge '71. The combination of several younger members and an innovative, aggressive leadership cadre means a new level of engagement. Keeping Professor Greg Redding on the Board and adding Professor Dan Rogers will keep the Board more connected than ever before to our faculty."
Castanias, a partner in the Washington, D.C. law firm Jones Day, replaces outgoing president Mark Dewart '74.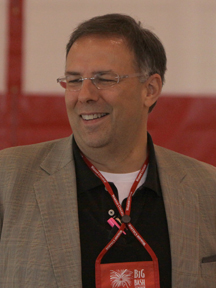 "Over the next two years, I want our Board's focus to be on establishing as many different touch points between the College and our alumni as we can," said Castanias. "That means strengthening the network of regional associations; supporting our Class Agent system; reaching alumni through social networking, podcasts, webcasts, and so on; finding ways to use alumni to buttress students' academic experiences and career opportunities; making sure our alumni get chances to know our new faculty; and the ever-present duties of alumni — recruiting outstanding young men to Wabash, and finding other ways to return our time, talent, and treasure to the College we love so well."
Runge said he's thrilled with the make-up of the Board, and the infusion of energy from the new student representative, Tyler Wade '12, has been beneficial. "Tyler has engaged the Board better than any former student member and his voice is one that the entire Board listens to as they look for ways to help the College achieve its strategic goals."
The new Directors join 10 other men who have been elected, including Scott Benedict '98, Kip Chase '03, Terry Hamilton '89, Scott Himsel '85, Brad Johnson '71, Jim Kerr '92, Brad Maxwell '83, Mike Rapier '87, Rick Strasser 02, and Khurram Tahir '01.
In addition to Directors-at-Large, the NAWM Board includes Class Agent Representatives (Ross Dillard '07 and Scott Medsker '03) and Regional Alumni Association Representatives (Dan Susie '68 and Keith Veal '92).
"The new members perfectly complement the Board's membership with alumni leaders like Rick Cavanaugh, Scott Benedict, and Art Howe joining the team," added Runge.