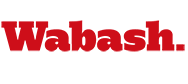 Experts Provide Instruction at Wrestling Camp
by Brent Harris

June 15, 2011

Two six-year-olds hang on every word that University of Iowa wrestling coach Tom Brands delivers. A few minutes later the pair heads off to a corner of the practice to put Brands' instruction to work. The two are part of the close to 300 participants at the sixth annual Brian Anderson Little Giant Wrestling Camp taking place at Wabash College this week.

"We have another large group of campers back this year," Anderson said. "We have the most youth campers we've ever had in the six-year history of the camp. We've definitely been able to create a steady following for this camp."

View photos from the camp

here

.

Anderson has brought another outstanding group of instructors to camp. Brands earned a gold medal for the US at the 1996 Summer Olympics in Atlanta. He has also earned gold medals a the 1993 World Freestyle Championships, the 1994 and 1995 World Cup events, and the 1995 Pan American Games. Brands is currently the head coach at Iowa, leading the Hawkeyes to national championships in 2008, 2009, and 2010.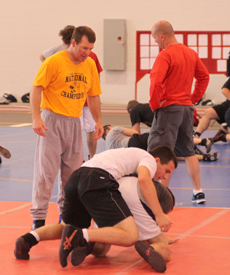 "I really like the way this camp is set up because the message of the camp is in line with what the Wabash wrestling program is all about," Brands
(left)
said. "The Wabash program wants to do well by doing the right things, and my message is the same. It's a like-minded mentality.
"The facility is unbelievable because of the space it provides. A lot of times I'll work camps where you don't really have space like this to work. A camp like this takes a lot of work to be done right. There's just a lot of overlap with Coach Anderson being about the same things our program at Iowa is about. We both want to make sure we're doing a good job teaching the sport."
Joining Brands on the list of instructors is Olympic silver medalist Sammy Henson. Henson finished second at the 2000 summer games in the 54 kg weight class. He earned a gold medal in freestyle wrestling for the USA at the 1998 FILA Wrestling World Championships and a bronze medal at the 2006 FILA World Wrestling Championships in China.
Camp instructor Ben Askren was the 2006 Outstanding Wrestler at the NCAA Championship meet after winning the 174-pound weight class title with an overall record of 45-0. He was a repeat champion in 2007 with a perfect 42-0 record, becoming the second person to win the Dan Hodge Trophy. Askren also competed in the 75 kg weight class for the United States at the 2008 Olympics.
Rob Koll, head coach at Cornell University, and University of Wisconsin wrestler Andrew Howe worked at the camp on Wednesday. Koll has guided his Cornell team to five top-five finishes at the NCAA Championship tournament. His team finished second in 2010 and 2011. Koll was also a four-time All-American wrestler at North Carolina. Howe was named Big Ten Freshman Wrestler of the Year in 2009 and won the 2010 national title at 165 pounds. He finished third at 165 pounds at this year's NCAA tournament.
Koll echoed the comments fellow head coach Brands made earlier in the week.
"I am blown away by this college and this camp," Koll said. "I had heard of Wabash but didn't know a lot about it. When I found out you have 900 students, I was expecting a small facility like some of the Pennsylvania state colleges. This facility is better than some of the Division I colleges I've visited when I've worked their camps. Some of these facilities are even nicer than some we have at Cornell.
"I also love the fact I get to see 300 Indiana, Illinois, and Ohio kids who love wrestling. And you never know, we may see some of these kids wrestling at Cornell or Wabash in the future and it could be because their first introduction to our schools was at this camp."
Former Indiana University wrestler Angel Escobedo also served as a coach at the camp. Escobedo is no stranger to the Wabash campus, competing against Anderson's Little Giant teams during his time at IU. Escobedo was a four-time All-American at IU, earning IU Male Athlete of the Year honors. He won the 2008 NCAA title at 125 pounds and competed at the Olympic trials that same season. Escobedo plans to participate in the 2012 and 2016 US Olympic team trials.
"It's an honor for me to be included with the group of instructors Coach Anderson has at the camp this year," Escobedo said. "I feel deeply privileged to come back to Indiana — my home state — and be able to give back to the wrestling community.
"This is such a great camp. Between the amount of kids and coaches that Coach Anderson has brought together is tremendous. There are so many different aspects of wrestling represented in one room. You don't find that at too many places. Coach Brands and I have two completely different wrestling styles. We get an opportunity to share our styles with all of these campers. That's what really attracted me to the camp. "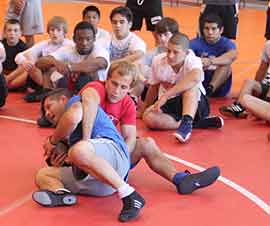 In addition to the outstanding list of experts serving as instructors at the camp, many members of the 2011-2012 Wabash wrestling team work as instructors and counselors. Sophomore Aaron Davis
(right wrestling with Henson)
serves as an instructor throughout all four days. He has also had a close look at the instruction provided by the national instructors, serving as an opponent for Henson and others during the training sessions.
"I've had a great week being able to learn all of the different techniques and approaches," Davis said. "Just learning all of the little things that each of these guys do and trying to perfect their drills, trying to get to their level has been tremendous. It's been a great experience."
"I've been able to work with a lot of the younger kids throughout the week," Davis said. "That's the future of our sport, and maybe someday the future of Wabash College wrestling. It's great to see them working on the technique. Their faces all light up when they see a new move pay off in the practices or the evening competitions. It's just great to see the excitement they have for the sport. These kids keep coming back every year. That's what we want."
"Our guys get a chance to bond for a week on campus," Anderson said. "During that time most of their focus is on the wrestling. They get to rub elbows with some of the best wrestlers in the entire world. You can't put a price tag on that.
"Our wrestlers also get to work with a lot of young athletes from as young as six years old all the way up to high-school-aged kids. I think that helps our athletes with their wrestling because they really have to think through their moves as they instruct these younger students. As athletes a lot times you don't work with that approach in practice. I believe you're educating yourself while you're teaching someone else. That's huge."