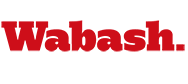 Bradway '71 Returns, Finds Record Intact
by Kenny Farris '12

June 4, 2011

Hugs, smiles, and handshakes turned into stories and laughter among the more than 330 alumni attending the annual Big Bash Reunion Weekend.

Alumni from 1943 to a few from the class of 2011 reconnected with a beautiful late spring day to take in the campus this weekend with their families and fellow Wabash men. Lawyers, scientists, a priest, and a wine hospitality manager made up just a few of the returning alumni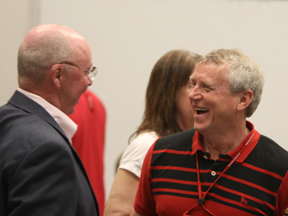 Big Bash 2011 couldn't have started more unique for Bruce Bradway '71. Bradway, a member of the 1968 track team in the 4 x100 and mile relay, returned to see his relay team's 4x100 record still unbroken. Later that afternoon, he surprised his fellow mile relay member Tom Bambrey '68 at the Wabash athletic director's retirement reception.
"I didn't even know the reception was happening today," Bradway said. "Tom was one of my first mentors at Wabash."
Bradway's Friday arrival marked his first time on campus in 10 years. "I've been teaching psychology on an Indian reservation in Montana," Bradway said. "It's a very interesting job because their overall psychology is unique and different to what you might expect."
This fall Bradway will begin teaching psychology at Ashford University in Iowa.
Stories of expected and unexpected reunions like Bradway and Bambrey's dominated the Wabash campus on Friday. Throughout the day more than 50 members of the class of 1961 arrived on campus, greeting each other and their families as they came for their golden anniversary reunion. Current Wabash students guided the alumni on tours of their home campus to see its beauty and changes from their student years.
Friday marked the first day of Scarlet Yarns, a joint project by the Archives, Alumni relations, and the Wabash Magazine videotaping alumni stories. Hot topics among the alumni contributors included W. Norwood Brigance and the 1957 Water Fight at DePauw. A commemorative DVD of the wide ranges of stories will be made, and clips will also be posted to the Wabash YouTube channel.
Saturday's schedule includes the alumni Chapel Sing at 11 am, class photos, and dinners hosted by each of the classes.