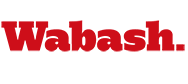 McCarthy Takes Fifth, Waterman Advances
by Brent Harris

May 27, 2011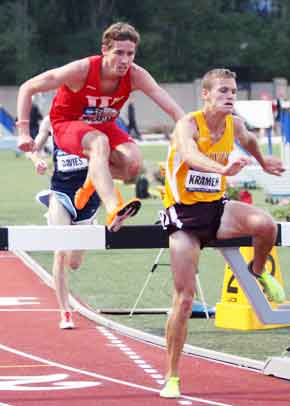 Junior Kevin McCarthy added another All-America award to his collection, finishing fifth in the finals of the 3,000-meter steeplechase at the 2011 NCAA Division III Outdoor Track and Field Championships. Teammate Jake Waterman advanced to Saturday's finals in the 800-meter run by winning his heat in Friday's prelims.
View photos from Friday night's action here.
McCarthy (left), who already claimed All-America honors in the 2010 indoor 800-meter run and 2010 outdoor 1500-meter run, ran with the lead pack throughout the entire race. He finished with a time of 8:59.61. All top-eight finishers broke the Gauthier Track record in the event.
"I'm really proud of Kevin," Head Coach Clyde Morgan said. "It was just a gutty performance in just his sixth time competing in the steeplechase in his career. He was very patient just like we talked about (before the race).
"I think next year people will need to watch out for Kevin. That's not a race you can just jump into and run. He'll take some time over the summer to process what he did (at this meet)."
"I put myself in position to win the race," McCarthy said. "I was in the top three (places) pushing right off the leaders and then the last two laps they started taking off and I just couldn't go with them. I'm happy with the effort because it was everything I had, but I'm still a little hungry for more.
"It's pretty cool to be an All-American in three different races. It kind of has me asking 'what's next.' Now my sights are set on next time being a national champion in an event."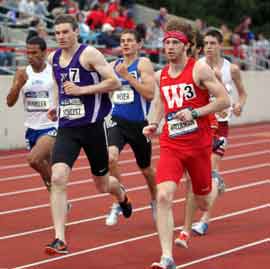 Waterman (right), who claimed indoor 800-meter All-America awards in 2010 and 2011, advanced to the finals of the outdoor 800 in his trip to nationals. He crossed the finish line in 1:50.88 in the second of three heats to earn one of eight places in the finals. His time was the third-quickest of all eight qualifiers and was less than 2/10ths of a second off his school record.
"Jake ran a really excellent race," Assistant Coach Roger Busch said. "We talked about running against the clock, so he got out well and stayed free of traffic. When the rest of the field came up behind him, he held his ground and finished the prelim the way he's supposed to. I was very proud of the way he listened and executed the plan. I'm really excited for tomorrow's final."
"The goal tonight was to get into the finals, and to do that all I had to do was what Coach Busch told me to do," Waterman said.
Waterman, who was edged out at the finish line of this year's indoor 800-meter run to finish second in the nation, plans to use that result to his advantage in Saturday's outdoor finals.
"If the indoor race is any indicator of what my potential could be, then I would like think I have a chance to win this race tomorrow. However, it will be a very tough race. Ben Scheetz from Amherst will be tough, as will the others in the race. We'll see what happens."
The 800-meter finals will begin at around 3:20 p.m. Senior Seth Einterz will compete in the final race for the Wabash track and field team at this year's nationals when he races in the finals of the 5,000-meter run at 4:25 p.m.
A complete story with quotes and photos will be available soon.
Game Stats