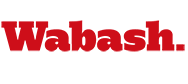 Holm, Timmons Receive Post-Season Honors
by Brent Harris

May 25, 2011

John Holm was named to the D3baseball.com Honorable Mention All-America Team, making him just the second baseball All-American in Wabash College history. He was also joined by teammate Montana Timmons on the American Baseball Coaches Association/Rawlings Mideast All-Region Team. Holm was a First Team selection at first base, while Timmons garnered Third Team honors.
Holm, the 2011 North Coast Athletic Conference Baseball Player of the Year and graduate of Naperville Central High School in Naperville, Illinois, hit .373 this season. He set a new Wabash single-season record with 52 RBI, breaking his old mark of 51 set last season. Holm blasted 12 home runs to rank sixth among Division III players. The junior first baseman has hit 30 home runs in three seasons at Wabash, setting a new school record. Holm also ranks first in career RBI with 130. In addition to earning First Team All-NCAC honors for the second consecutive season, Holm was also named the NCAC 2011 Baseball Tournament MVP.
Mike Maddox is the only other Wabash baseball player to earn All-America honors. He was named to the 1978 ABCA All-America Team. The ABCA will announce its 2011 All-America team later this week.

Timmons, a sophomore outfielder and graduate of McCutcheon High School in Lafayette, Indiana, batted .366 this season with 60 hits, 14 doubles, three triples, and three home runs. The two-time First Team All-NCAC and 2011 NCAC All-Tournament Team selection produced 45 RBI, ranking him third on the Wabash single-season RBI list behind Holm. Timmons' 45 RBI ranked 68th in the nation among Division III players. He tallied a Wabash single-game record eight RBI against Ohio Wesleyan. Timmons tied the Wabash record for total number of games played in season with 44 appearances, including 43 starts in left field. He had 70 putouts and two assists with only one error in the field.




For more information see: