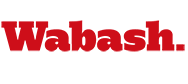 Wabash Season Ends with 7-5 Loss to Salisbury
by Brent Harris

May 20, 2011

Wabash saw one of the most successful seasons in the baseball program's history come to an end Friday afternoon with a 7-5 loss to Salisbury in the NCAA Division III Tournament. The Little Giants were the first team in the school's 145-year baseball history to play in the NCAA tourney.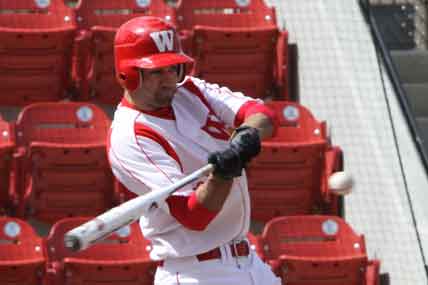 The Little Giants led 5-4 thanks to a two-run sixth inning capped by an RBI double by Joe Johnson (pictured). Salisbury's three-run inning gave the Seagulls the lead in the bottom of the sixth before turning aside challenges from Wabash in eighth and ninth innings.
Wabash finished the season with a 22-22 overall record. The Little Giants entered the NCAA Tournament as the fifth seed after winning their first North Coast Athletic Conference tournament title in school history to earn the league's automatic bid the national tourney.
Chris Deig set the Wabash single-season hits record with his 64th base knock of the season.
The Little Giants took a 1-0 lead when David Siebel's single scored fellow senior PJ Tyson from second in the second inning. The Seagulls scored single runs in the third and fourth innings to take a 3-1 lead. John Pennington drilled a triple down the left field line in the fifth inning after Deig's single to cut the Salisbury lead to one. John Holm's sacrifice fly scored Pennington from third to pull Wabash even at 3-3.
After Salisbury added another run in the fifth, Tanner Coggins laced a leadoff single up the middle. Tyson's ground ball moved Coggins to second, and a Lares single sent him to third. Seibel's sacrifice fly tied the game at 4-4 before Johnson's RBI single gave Wabash the lead.
The three-run sixth by the Seagulls proved to be too much for Wabash to overcome. The Little Giants started a possible rally in the eighth inning with a leadoff single by Coggins. A drive to right Tyson that could have put runners on second and third was hauled in on the run by rightfielder Nate Gentry for Salisbury. Lares' single put runners at first and second, but Drew Baldwin induced an inning-ending double play to keep the lead at two runs.
Pennington and Holm each hit two-out singles in the ninth, but Baldwin finished the game with a strikeout to send the Seagulls into the final day of competition at the South Region.
Lares finished with three hits, while Pennington, Coggins, and Johnson each added two. Lares also earned a place on the regional All-Tournament team, going 6-for-12 in three games for the second-highest batting average among the entire field of players.