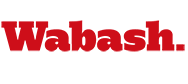 Wabash Blanked in NCAA Opener
by Brent Harris

May 18, 2011

Wabash matched nationally-ranked and two-time regional champion Shenandoah hit for hit in Wednesday's first round of the NCAA Division III Baseball South Regional. The Little Giants could not collect a key hit in their NCAA tournament debut, falling 4-0 to Shenandoah.

The Little Giants faced two-time USA South Conference Pitcher of the Year Greg Van Sickler, totaling nine hits against the senior righthander. Wabash loaded the bases with two outs in the first inning and had runners on first and second with two away in the second, but were unable to plate a run.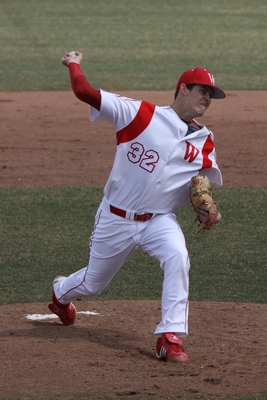 Junior pitcher Andrew Swart (pictured) pitched eight innings for the Little Giants. He scattered 10 hits with no walks while striking out five. Defense hurt Wabash in key innings, however, and the Hornets took advantage each time.

Keaton Neeb scored the first run of the game after reaching on an infield single and advancing to second on a throwing error. Mike Minch brought Neeb home with a two-out single down the right field line to put Shenandoah in front.

The Hornets (35-5) loaded the bases in the seventh inning thanks to a single, a Wabash error on a sacrifice bunt, and a catcher's interference play. A hit batsman by Swart brought the second run of the game home before Van Sickler helped his cause with a two-run double down the left field line.

Wabash rallied in the ninth with a leadoff single by Brian Lares and a two-out walk by Chris Deig, but again could not find a two-hit to plate a run.

Deig, Lares, Tanner Coggins, and David Seibel each had two hits for Wabash. Seibel had the only extra-base hit of the game for the Little Giants with a two-out double in the fourth. Montana Timmons added the ninth hit for Wabash.

The Little Giants (21-21) face number-one seed and nationally-ranked Christopher Newport on Thursday at noon (CDT). The Captains lost 11-1 in game one of the Regional against sixth-seeded Webster.




Results: Shenandoah 4, Wabash 0