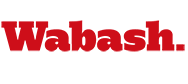 Parents' Pride Evident on Graduation Day
by Kenny Farris '12

May 15, 2011

To the Wabash Class of 2011, Commencement begins a point of change as each heads on their own path toward jobs, graduate schools, and new places to live. For parents, the day sparked moments of reflection on their sons' future.

"It's always special to have an event where you can culminate all four years of this experience," Alex Moseman '11 said. "Especially looking back on how I felt as a freshman, it's kind of remarkable to see where I am now."

For many of the graduates and their families, graduation day not only signifies the individual growth but also the need for further growth outside of the College.

"As a parent, you tend to raise your children so they can go out and live on their own," Charles German '70, father of Jake German '11, said. "It's kind of a heartfelt tug when they leave, but they've been very well trained at Wabash, so they're going to do well."
Multiple 2011 Wabash graduates and their families spoke of the role hard work played in reaching graduation.
"This day is the culmination of not only four years at Wabash, but also my college experience, my high school experience, everything leading up to this day," Michael Nossett '11 said. "I was homeschooled, so my parents put in a lot of effort there, in addition to the finances to get me here. I'm really grateful ."
Doug Lembke found it hard to believe his son Micah was graduating. "Micah is a triplet; his brother graduated yesterday 12 hours west of Wabash, and the other brother graduated in December."
"Wabash was a good fit for Micah, as were the other colleges for the other boys. "You've got to know where you're comfortable at, and Micah was very comfortable here."
Wabash legacies formed an important aspect of this year's Commencement Day. This year, 20 Wabash graduates from the class of 2011 had at least one relative graduate from the College before them.

"I think graduation time is actually more exciting for me compared to when my sons started," Frank Kolisek '82, father of Jake'11 and Charlie'14, said. "It seems like yesterday, but it was really four years ago."
"What's funny about seeing (Jake) is that three years from now I'll be here for graduation (again) and it will seem like tomorrow because it goes really fast. It's neat that both my boys will be graduating from the same school. I'm more excited about it now than I was when they started."
Through all the reflections, the graduates and their families kept in mind the well-deserved Commencement Day joy.
"It's a great night, a culmination for my classmates of four years of hard work," Jake Moore '11 said. "It feels really good."
Jake's mother Laurel brought the day's impact full circle. "I think it's a dream come true for a lot of graduates and their families," she said. "Today's a time for all of us to get together and celebrate what makes Wabash so great."