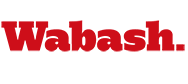 Wabash Crowned NCAC T&F Champs
by Brent Harris

May 7, 2011

Wabash won its first North Coast Athletic Conference Outdoor Track and Field championship in convincing fashion Saturday afternoon in Oberlin, Ohio. The Little Giants' team depth proved to be too much for the rest of the league, posting a total of 311.5 points.

The Little Giants easily outdistanced three-time defending champion Ohio Wesleyan. The Battling Bishops finished second with 135 points. Wabash shattered the previous top score in NCAC men's track and field championships of 237 points set by Allegheny in 2006.

"Earlier in the week we talked about every single man on this team putting forth his best effort to capture every point we could," Head Coach Clyde Morgan said. "I never expected anything like this. Our guys took it to a completely different level.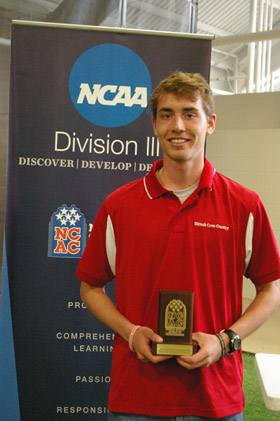 "The key for this win was that our team truly enjoys working together and competing as a group. One of the officials told me during the meet that it's clear our guys enjoy competing as a team. They support each other during every race. That carried us throughout the tough weather conditions, the long days, and the difficult competition. We are battling very good athletes in every event in this conference. To score as well as we did with so many season- and career-best results is a testament to our team's motto 'Men of Wabash, Nothing Breaks Us!'."
Kevin McCarthy was named the Men's Outdoor Middle Distance/Distance Athlete of the Year. Matt Scheller took home Men's Field Athlete of the Year honors, giving him a sweep of both the indoor and outdoor awards this season. Morgan and his coaching staff were recognized with the Coach of the Year Award.
McCarthy (right) was an easy choice for his award. He won the 3000-meter steeple chase in thrilling fashion, shattering the old NCAC record by more than 13 seconds. His winning time of 8:58.66 was easily quicker than the NCAA automatic qualifying time of 9:07.00. McCarthy is only the second Division III athlete to break the sub-9-minute mark in the steeplechase this season, joining Brian Lang from the University of Rochester. Lang owns the fastest time this season at 8:56.76. Wabash runner Colin Dunlap added to the team scoring total with his eighth place finish in the steeplechase, crossing the finish line in 10:03.41.
McCarthy added a second place finish in the 800-meter run with a time of 1:55.39. Jake Waterman finished seventh in the 800, crossing the finish line in 1:56.84.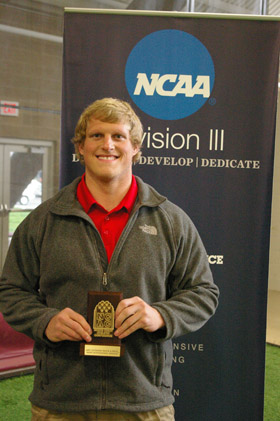 Scheller
(left)
had a record-setting day, as well. The senior won the hammer throw with a mark of 48.36 meters (158 feet, 8 inches), bettering the former NCAC record of 156 feet, 3 inches set by teammate Alex Moseman when he won the event in 2009. Moseman was close to his old record in his final season of competition, finishing second this year with a mark of 47.15 meters (154 feet, 8 inches.
Freshman Charles Smothers claimed the fastest man in the NCAC title by edging out All-American Ethan Freet in the 100-meter dash. Smothers won the race with a time of 11.05 compared to Freet's time of 11.07. Fellow freshman Sean Hildebrand earned All-NCAC honors by finishing third in the race with a time of 11.243, barely beating Oberlin's Shawn Chrapczynski in fourth place (11.250). Vann Hunt grabbed seventh place (11.47), while Chet Riddle finished eighth (11.54).
Senior Wes Chamblee and sophomore Jake Waterman took the top two spots in the 400-meter dash. Chamblee, who completed his recovery from a serious knee injury while playing football in the fall, crossed the finish line in 49.00 to take first place. Waterman was right behind in second with a time of 49.04. John Haley was fifth overall with a time of 50.01. Haley added a fifth place finish in the 200-meter dash by finishing in 22.60. Chamblee was sixth overall in that race (22.73), while Hildebrand took seventh place (22.75).
Wabash took the top four places in the 110-meter hurdle finals. Billy Rosson claimed the conference title with a winning time of 15.34. Patrick Posthauer was second after finishing in 15.50. Haley was third to grab the final all-conference spot with a time of 15.98. John Bogucki finished fourth with a time of 16.05. The Little Giants took four of the top six spots in the 400-meter hurdles, with Rosson finishing second overall with a time of 55.88. Bogucki was fourth overall (57.52), Riddle finished fifth (58.54), and Posthauer as sixth (1:00.76).
Chase Belton combined with Smothers, Hildebrand, and Hunt to win the 400-meter relay. The quartet ran the fastest time of the year by a Wabash group in the race, finishing in 42.15.
Junior Daniel Ambrosio and Evan Groninger finished first and second, respectively, in the javelin throw. Ambrosio produced the winning throw of 54.81 meters (179 feet, 10 inches), while Groninger took second with a mark of 53.57 meters (175 feet, 9 inches).
Devin Kelley grabbed all-conference honors for the second consecutive day, this time finishing second in the high jump by clearing 1.82 meters (5 feet, 11.50 inches). Ambrosio took third place by clearing 1.28 meters (5 feet, 11.50 inches) just ahead of Posthauer, who was credited with fourth place. Bogucki also cleared 1.28 meters to tie for fourth place with Posthauer.
Seth Einterz captured third place in the 5000-meter run, crossing the finish line in 15:06.87. Donavan White was fifth in the 1500-meter run with a time of 3:58.04. Justin Allen finished eighth overall (4:01.29).
Posthauer just missed earning a spot on the all-conference team, finishing fourth in the long jump with a season-best result of 6.46 meters (21 feet, 2.50 inches). Groninger was fifth overall (6.37 meters; 20 feet, 10.75 inches), while Hunt took sixth place (6.29 meters; 20 feet, 7.75 inches). Hunt added a fourth-place finish in the triple jump (12.61 meters; 41 feet, 4.50 inches). Belton was sixth (12.03 meters; 39 feet, 5.75 inches), with Jonathan Koop finishing eighth overall (11.86 meters; 38 feet, 11 inches).
Wabash completed its team scoring with a fifth-place finish in the 1600-meter relay. The team of Haley, Waterman, Hildebrand, and Chamblee finished with a time of 3:27.21.
"I'm so proud of every member of this team," Morgan said. "Even in the rain, our guys were all around the track shouting words of encouragement to their teammates. Everyone of our coaches — Roger Busch, Steve Rogers, Horace Turner, Steve House, and Rob Johnson — kept the guys prepared for every event. Even our trainer, Mark Elizondo, was key to our victory. He traveled all the way to Oberlin and worked with Groninger, Einterz, and a couple of our other athletes after Friday night's competition. I'm not sure those guys are able to come back and perform the way they did without Elizondo's help.
"Everyone who wore Wabash gear at the meet was a part of this victory."
Game Stats