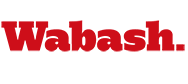 Weather Can't Contain Wabash Track and Field
by Brent Harris

May 6, 2011

The Little Giant used their team depth on Friday to take an early lead at the 2011 North Coast Athletic Conference Outdoor Track and Field Championship meet. Despite long delays and cancellation of preliminary heats of several races, Wabash took a 50-point lead over the field thanks to 14 top-eight performances.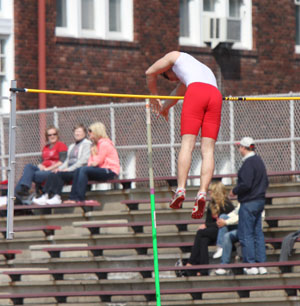 Wabash's domination in the field events started with the pole vault. The Little Giants swept the top-three spots and had four of the top-five finishers overall. Matt Knox
(right)
won the competition by clearing 4.09 meters (13 feet, 5 inches). Teammate Trevor Young earned all-conference honors by clearing the same height one attempt later than Knox. Josh Sparks grabbed third place and the final all-conference spot with a mark of 3.79 meters (12 feet, 5.25 inches). Wesley Adams added key points for the Little Giants by finishing in fifth place after clearing 3.79 meters (12 feet, 5.25 inches) on a later attempt.
Matt Scheller (below left) took first place in the shot put. His attempt of 15.39 meters (50 feet, 6 inches) was easily his best mark of the season, earning him all-conference honors as one of the top-three finishers. Joel Beier was second after posting a mark of 14.15 meters (46 feet, 5.25 inches). Brad Pusateri finished fifth with a mark of 13.73 meters (45 feet, 0.5 inches).
Devin Kelley scored all-conference honors with his second-place finish in the discus with a mark of 42.83 meters (140 feet, 6 inches). Ben Burkett added a lifetime best in the discus with a throw of 40.47 meters (132 feet, 9 inches) to finish fourth overall. Beier took fifth place with a mark of 38.70 meters (127 feet).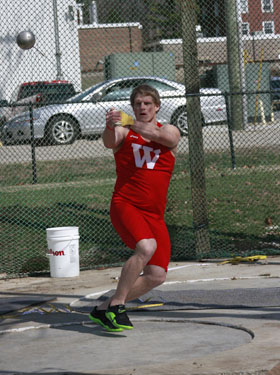 Seth Einterz picked up a second-place finish in the 10,000-meter run by finishing in 31:30.95. Three Little Giants just missed spots on the all-conference team in the long jump, but still added valuable team points for the squad with top-six finishes. Patrick Posthauer took fourth place with a leap of 6.46 meters (21 feet, 2.50 inches). Teammate Evan Groninger grabbed fifth place (6.37 meters; 20 feet, 10.75 inches), while Vann Hunt took sixth place (6.29 meters; 20 feet, 7.75 inches). All three efforts produced top marks for the season.
Wabash scored 12 points one week earlier thanks to Groninger and Sam Glowinski's efforts in the decathlon, keeping the Little Giants within striking distance of Ohio Wesleyan after the three-time defending conference champions had scored 16 points in the first week of competition. Wabash outscored the Battling Bishops 86.5 to 11 on Friday to take a huge lead at the conclusion of competition on Friday. Wabash leads the team scoring with 98.50 points, followed by the host school, Oberlin, with 48 points. Allegheny is third (29), followed by Ohio Wesleyan (27), Wittenberg (10), Wooster (9.50), Denison (6), and Kenyon (3).
The Little Giants already have several athletes who have qualified for Saturday' finals. Sean Hildebrand, Charles Smothers, Chet Riddle, and Hunt finished in the top-eight spots of the 100-meter dash preliminaries and will advance to the finals. John Haley, Wes Chamblee, and Jake Waterman will compete in the finals of the 400-meter dash after finishing in the top-six spots in Friday's prelims. Billy Rosson, Posthauer, John Bogucki, and Haley had the four best times in the preliminary round of the 110-meter hurdles.
The remainder of the preliminaries scheduled for Friday had to be cancelled due to thunderstorms in the Oberlin, Ohio area. Those events will be run as timed finals on Saturday in addition to the remainder of the scheduled finals events.
Click
here
for complete meet information.