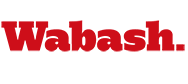 Joe Haklin '73 Named New Wabash AD
by Brent Harris

May 2, 2011

Wabash College President Patrick E. White has appointed Joseph R. Haklin as the College's new Director of Athletics and Campus Wellness. Haklin, a 1973 Wabash graduate, replaces Tom Bambrey '68, who will retire at the end of June.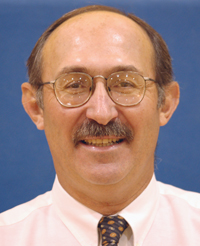 Haklin is currently the Director of Athletics at Marian University in Indianapolis, and will begin his service to Wabash on July 1.
"As an Academic All-American and Hall of Fame athlete at Wabash, Joe Haklin understands the special character of athletics at the College: our commitment to taking seriously the highest ambitions of our students as both scholars
and as athletes," President White said. "He brings home to Wabash his life-long commitment as teacher/coach and his experience as athletic director, able to encourage the best efforts of coaches and athletes."
Haklin was named Director of Athletics at Marian University in 2005. During his time directing the Knights' athletics program, Haklin authored a football business plan that established the University's first team. In just its fourth year of competition, the Marian football team qualified for the NAIA Football Championship Series in 2010, finishing the season with a record of 10-3.
Haklin also co-directed the construction of the $3.3 million expansion of the Physical Education Center and the $3.5 million Marian University Athletic Complex, including the stunning St. Vincent Health Football Field. He has restructured the entire Marian athletics administrative, coaching, and financial programs, helping the Knights finish second in the Commissioner's Cup in the Mid-Central College Conference for the 2009-2010 season, the highest finish ever for Marian.
Haklin was also the supervisor in the construction of the Marian University Cycling Center. The center was constructed using monetary and in-kind donations. The center has benefitted the entire Marian University community as the staff offers spin classes and PowerBooster classes for the entire community to get fit. It is also the winter training home for the 12-time collegiate national track cycling champions.
"I greatly appreciate the opportunity to work with the wonderful people at Marian University during the past six years," Haklin said. "The administrators, coaches, and student-athletes at Marian share a quest for excellence which has truly transformed the institution. I will always treasure my time spent with the Marian University community.
"However, I am deeply honored to be named the next Director of Athletics and Campus Wellness at Wabash College, my alma mater. As a student-athlete, I benefitted from the guidance and mentoring of professors and coaches from an earlier era. Now, I have the opportunity to serve the current student-athletes of Wabash in a similar way as the leader of the athletic department. I am humbled, yet excited about carrying out that responsibility."
Haklin majored in history and graduated summa cum laude from Wabash in 1973. He was elected to Phi Beta Kappa and was a Rhodes Scholar finalist. He was a four-year letterman in both football and baseball, and was a three-year letterman on the Wabash basketball team. As a senior, Haklin was named a Second Team Academic All-American in football and a First Team Academic All-American in basketball. He was elected captain of both the football and baseball teams and earned the baseball team's Most Valuable Player Award in 1973. Haklin was the recipient of the Tony Hinkle Scholar-Athlete Award, presented by the Indiana Collegiate Conference to the league's outstanding student-athlete. He was inducted in the Wabash College Athletics Hall of Fame in 1991.
"Joe's work at Marian has been transformative, dynamic, and impressive," said Wabash Dean of Students Mike Raters. "It is his lifelong and deep-rooted love for the Division III student-athlete experience, though, which has led him back to his alma mater. Our young men will find an engaging and enthusiastic leader who wants to learn about — and further — their Wabash experience. He is committed to continuing the great legacy of Wabash athletics and, particularly, shaping its significant role in the overall education of our students."
"It's been a pleasure working with Joe for the past six years and I'm sorry to see him leave Marian University, but I wish him well at his alma mater," Dr. Thomas J. Enneking, Executive Vice President and Provost of Marian, said.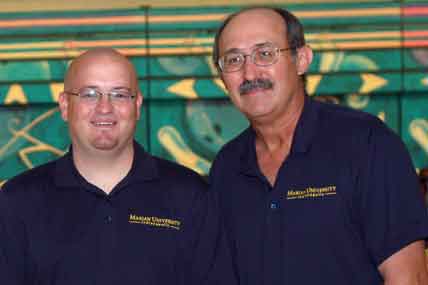 Haklin served three years as a history teacher and coach at Kent School in Connecticut before beginning his coaching career in earnest. He was named the head basketball and baseball coach along with duties as a history teacher at University Liggett School in Michigan in 1976. He became the assistant men's basketball coach and physical education instructor at Wayne State University in 1979 before taking a position as the assistant men's basketball coach at Western Michigan University in Kalamazoo, Michigan in 1982.
Haklin moved across town in 1987 to take the position of head coach of the men's basketball and women's softball teams at Kalamazoo College in addition to duties as and adjunct assistant professor of physical education. He was named an associate professor of physical education and men's golf coach in 1990 while continuing to coach the men's basketball team.
Haklin led the Hornets men's basketball team to a record of 218-166 from 1987 to 2002, the second-highest winning total for a coach in Kalamazoo College history. In 2002, he was named the director of basketball at The Courthouse Athletic Center in Kalamazoo, where he directed summer basketball camps along with fall and winter basketball conditioning programs. Haklin also served as a color commentator for television and radio high school basketball broadcasts in the southwest Michigan area.
"The search committee, comprised of coaches, faculty, staff, and both alumni and student representation, did a fantastic job working through a large, deep, and talented pool," added Dean Raters. "That group deserves a great deal of credit and appreciation for managing the complexities of the process, which yielded such a strong and enthusiastic leader as Joe.
"We have clearly had an exceptional year of athletic success in 2010-11. Led by first-time conference championships in baseball and indoor track and fiel, as well as national meet success by the cross country team and a convincing Monon Bell victory, our current Little Giants have lived up to the school's nickname. Accordingly, retiring Athletic Director Tom Bambrey leaves big shoes for Joe to fill. We are confident Joe is the right man to try to fill them," Dean Raters said.
"I am confident Joe Haklin will provide the leadership to build on the grand tradition of success that marks Wabash athletics and advance the fine work of Tom Bambrey, who as Athletic Director and as Dean of Students has done so much to carry forth the spirit and greatness of sport at Wabash," President White added.